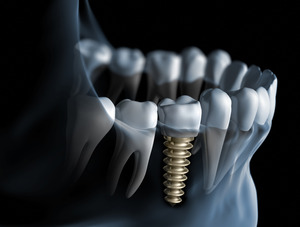 Many people are interested in getting dental implants to replace their missing teeth from the roots up but are unsure what to expect after the surgery. You can always talk to your oral surgeon if you have any questions or concerns, but it never hurts to be prepared ahead of time. Below are the answers to 5 common post-op questions for dental implant surgery.
1. Will You Be Able to Drive Home Afterward?
It depends on what kind of sedation, if any, was used during the surgery. If you received IV sedation or general anesthesia, it will take time for the effects to completely wear off. In these cases, you should make arrangements to have a trusted friend or family member drive you home. Plan on staying off the road for at least 24 hours after your procedure.
2. Is Bleeding Normal?
You may notice some blood oozing from the surgical site for around two to three days after implant placement. This is considered normal, so there's no need to be alarmed if it happens. Try to avoid spitting or rinsing after your surgery, as this can make the bleeding worse.
If the area starts bleeding heavily, apply pressure by biting down firmly on some gauze for one hour. You can repeat the process as necessary until the bleeding stops.
3. What Can You Eat After Implant Placement?
For the first couple of days, you'll want to stick to an all-liquid diet that includes home-cooked broths, smooth soups, and fruit smoothies. After a while, you can start eating softer foods that don't require much chewing. You'll eventually be able to return to a normal diet, but you'll need to avoid chewing on your dental implant post(s) until a crown, bridge, or denture has been attached.
4. Will Recovery Be Painful?
You'll likely experience some discomfort after receiving dental implants once the numbness in your mouth wears off. Depending on how extensive your procedure was, you may be prescribed medication to help you stay comfortable. The discomfort should start to subside after about three to five days; if it lasts longer or grows more severe, you should reach out to your oral surgeon immediately.
5. Can You Brush Your Teeth After Dental Implant Surgery?
You need to keep your mouth as clean as possible while you are recovering from dental implant surgery. After the first 24 hours, you will be able to brush like you normally would. Be very gentle when cleaning around the implant site. To further lower your risk of infection, you should also rinse regularly with salt water.
About the Practice
At South Florida Oral & Maxillofacial Surgery, we have been serving patients since 1989 with state-of-the-art, highly comfortable care. We offer dental implants as a solution for people who are missing any number of teeth, and we'll take whatever steps are needed to ensure that the recovery process goes as smoothly as possible. To schedule an implant consultation at our Jupiter office with one of our oral surgeons, visit our website or call (561) 743-8311.