Meet Our Jupiter, FL Oral Surgery Team
Our team's primary concern is to ensure our patients are as comfortable as possible and always enjoy well-organized appointments that start on time. Whether you're scheduling with us, have a question about treatment or need help with your payment options, you can trust that a member of our team will be ready to provide exactly what you need. They can't wait to meet you, and you can learn more about everyone by reading on below.
Katrina, Practice Manager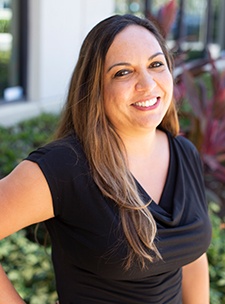 Katrina has her Bachelor's in Business and is a veteran of the United States Navy (1995-1999). Her experience in dentistry as a whole spans over a full decade so far. Here at South Florida Oral & Maxillofacial Surgery, she loves that there is a genuine spirit of cooperation and willingness for the whole team to do what they can for patients in need!
When she isn't busy at work, Katrina enjoys traveling, taking her dog Rocco out for a stroll at the beach, and trying all kinds of new restaurants.
Lanae, Implant/Marketing Coordinator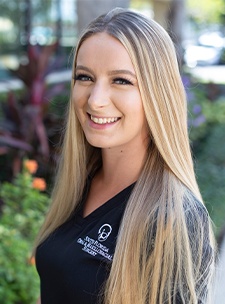 Lanae studied at Palm Beach State College, and she's been a dedicated member of our team for a few years now, with hopefully many more to come. She feels so proud to work with four amazing doctors!
Outside of the office, Lanae's biggest hobby is cooking. She's always on the move and has been told that she has more energy than the Energizer Bunny.
Danielle, Surgical Assistant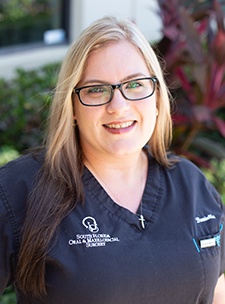 Originally from New York, Danielle studied at Westchester Community College before attending Palm Beach State College. Today, she has nearly two decades of experience in the world of dentistry, and the last 15 or so have been spent right here with our team! One of her many accomplishments is completing the Dental Anesthesia Assistant National Certification Exam.
Outside the office, Danielle enjoys spending time with her son, Brayden, and their two dogs, Mischief and Angel. She also loves gardening and raising Monarch caterpillars!
Linda, Surgical Assistant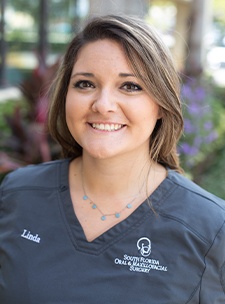 Linda is originally from Atlanta, GA! She earned her degree from Florida Atlantic University before undergoing advanced training in phlebotomy and earning her D.A.A.N.C.E certification. She has been working with our team for a few years now and is looking forward to many more ahead.
Melissa, Director of Clinical & Implant Operations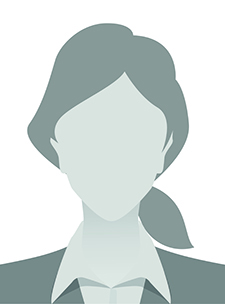 Although Melissa is originally from New Jersey, she attended the University of North Carolina at Greensboro. Today, she has completed advanced training in dental implants, bone grafting, HIPPA compliance, and OSHA compliance. Plus, she has more than five years of hands-on experience! For her, the best part of her job is supporting the growth of our practice.
Outside the office, you'll most likely find Melissa paddleboarding, boating, cycling, cooking, gardening, and spending time with her dog. Here's an interesting fact about her: she's 100% Irish!