Dental Implants — Jupiter, FL
State-of-the-Art
Tooth Replacement
Missing teeth can cause people to feel embarrassed about their smile, and they might even make it difficult to eat or talk normally. Dental implants in Jupiter, FL provided by South Florida Oral & Maxillofacial Surgery are often the answer for patients dealing with these kinds of problems. They offer a solution that looks natural, can be trusted to stay in place, and last for a lifetime to come. No matter how many teeth you might be missing, we can use them to give your smile a new lease on life. Give us a call today to schedule your consultation and discover how dental implants could change your life.
Why Choose South Florida Oral & Maxillofacial Surgery For Dental Implants?
4 Board-Certified Oral Surgeons Under One Roof for Continent Treatment
Permanently Replace Any Number of Missing Teeth
We Offer Flexible Financing & Will Maximize Your Dental Insurance Benefits
What Are Dental Implants?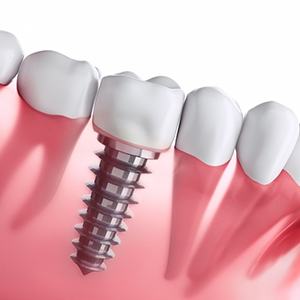 Your natural teeth are made up of two parts: the shiny white crown that you see when you smile, and the roots hidden under the gums that hold it in place. Traditional tooth replacement options like dentures and dental bridges only replace the crowns of missing teeth, which makes them less functional, comfortable, and reliable than home-grown teeth. On the other hand, dental implants replace the entire structure of a missing tooth from top to bottom for optimal results.
This state-of-the-art tooth replacement has three parts: an implant post, an abutment, and a final restoration. The dental implant post is surgically inserted into the jawbone to replace the root structure of a missing tooth. Once there, it fuses with the surrounding bone tissue to form a solid, comfortable foundation. On top of it, the abutment secures your final restoration in place. Depending on the extent of your tooth loss, this could be a crown, bridge, or denture. In the end, you regain a complete smile that looks, feels, and functions just like natural.
Partners with Your Dentist
Most of our patients come from referrals from several general dentists in the area, and that's because they trust the one-of-a-kind expertise here at South Florida Oral & Maxillofacial Surgery. When you become our patient, our team will make the transition between your dentist's office and ours as smooth as possible. By the time you step through our doors, we'll completely understand your situation and have all your paperwork organized so you can get the care you need in the most efficient and stress-free way possible. In the end, we'll feel like an extension of your regular dentist.
The 4 Step Dental Implant Process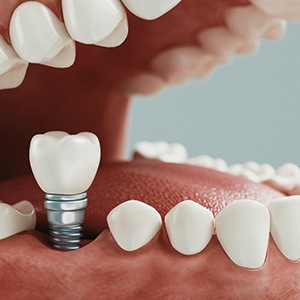 Because they recreate the entire structure of a lost tooth instead of just the crown, dental implants are unlike any other form of tooth replacement. However, the process of getting them is a bit more complex than a conventional bridge or denture. You might need more than one procedure to ensure your mouth is able to accommodate the implants. Once this process is complete, though, your new teeth can last a lifetime with the proper care.
Initial Dental Implant Consultation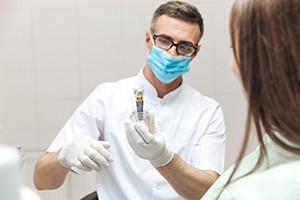 Generally, most patients who have good oral and overall health make good dental implant candidates. You'll still need a consultation to make sure, though. This process usually starts at your dentist's office, where they'll capture digital images of your mouth and jaw to detect any problems that may be hidden beneath the surface. Depending on what they find, you might need preliminary procedures, such as bone grafting, which we can take care of at our practice.
Dental Implant Surgery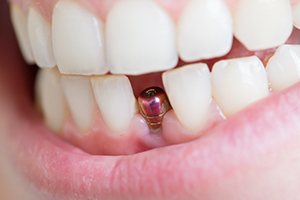 After you've healed from your preparatory work, you can schedule your implant placement surgery with us. A potent local anesthetic (as well as sedation in most cases) is used to make sure you're comfortable before we open your gum tissue to access your jaw. Small holes are created at strategic locations throughout the bone. The implants are then placed in the holes, and your gums are then stitched closed.
Dental Implant Osseointegration & Abutment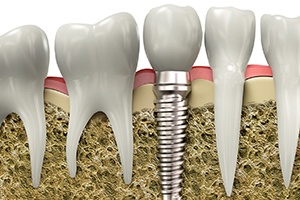 Over the next three to six months, your jawbone will fuse to the implants in a process called osseointegration. This allows your new replacement teeth to have a sturdy foundation and the stability to last for a lifetime with the right care.
Once osseointegration is complete, you'll return to our office for another brief surgery to receive your abutments. These are small metal attachments that will allow your dentist to place your restoration on top of your implants. During this procedure, we open your gums to expose the head of the implant and install the abutments. Your gum tissue will heal around after a couple of weeks.
Delivery of Dental Implant Restorations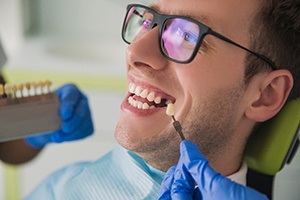 After you've gotten your abutments, your dentist should take care of the rest from there. While you're recovering from your abutment surgery, a dental lab is busy creating your new teeth from high-quality, natural-looking materials based on impressions of your mouth that your dentist has taken. Once they place your custom-made crown, bridge, or denture, no one should be able to tell you're missing any natural teeth!
Benefits of Dental Implants
There's more than one way to replace a tooth, but few of them offer the same benefits as dental implants. Thanks to their unique trait of fusing with the jawbone itself instead of resting on the gums or on your natural teeth, dental implants have a variety of advantages, which we'll be happy to discuss with you in more detail during an implant consultation. Consider the benefits listed below carefully when deciding whether implants are potentially a solution for your tooth loss.
Day-to-Day Benefits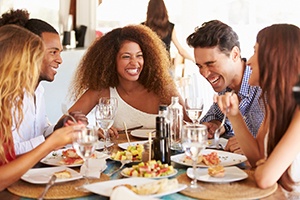 When it comes to using your teeth for daily tasks such as eating, speaking, and smiling, you'll be especially grateful for the following benefits of implants:
Versatility: No matter how many teeth you've lost, dental implants can be used to replace them. Crowns, bridges, and dentures can all be attached to an appropriate number of implant posts.
No Diet Restrictions: There aren't any foods that you particularly have to stay away from when you have implants. In contrast, dentures often make it difficult to chew tough meats, sticky caramel, and other foods.
Easy Maintenance: Not looking forward to having to take your teeth out to clean them? Dental implants can be brushed and flossed as easily as natural teeth.
Improved Confidence: Implants prevent your new teeth from slipping, so there's no need to feel nervous about smiling or eating in public.
Health Benefits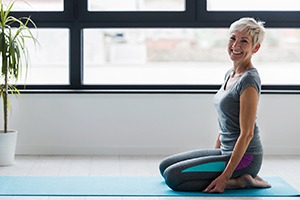 When you get dental implants, it's not just about improving your appearance. They can also improve your overall health in the following ways.
Improved Stability: Having teeth that stay firmly in place at all times can improve your overall health by making it easier to eat a variety of nutritious foods. Implants also increase chewing strength, so your bite will be nearly as powerful as it was when you still had a full set of natural teeth.
Jaw Strength and Oral Health: Dental implants are the only tooth replacement option that will stimulate the jawbone to help it stay healthy and functional.
Healthy Lifestyle: A more nutritious diet, easier maintenance, and improved jaw health all greatly improve the overall quality of your life.
Long-Term Benefits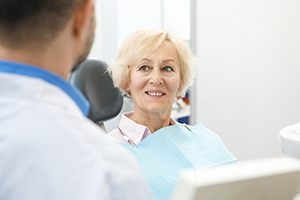 The difference that dental implants make will be evident right away, but there are several benefits that you'll only be able to fully appreciate once a sufficient amount of time has passed.
High Success Rate: Dental implants have an extremely high success rate of around 95%. Even 20 years after the initial placement, odds are that the implants will stay firmly attached to your jawbone.
Youthful Appearance: The stimulation of the implant posts prevents the deterioration of the jawbone. That means that your facial muscles will continue to receive support from the jaw, thus maintaining a younger appearance.
Long Lifespan: The average bridge or denture will last roughly 5 to 15 years. A dental implant post can potentially last for 30 decades or more without having to be removed or replaced.
Who Dental Implants Can Help
Would dental implants be a good fit for you? If you have missing teeth, then you can definitely benefit from this treatment, no matter how many. All you need is stable oral health, decent overall health, and a jawbone thick enough to support the new roots. Once all of these requirements have been met, we'll be able to create a detailed treatment plan to help improve your dental needs. Read on to learn more about how you can take advantage of dental implants in Jupiter.
Who Is a Good Candidate for Dental Implants?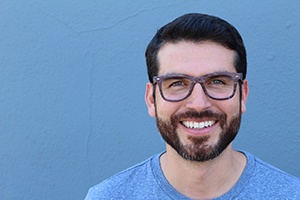 Most healthy adults can be good candidates for dental implants. Here are the three main factors that'll need to be considered before you can undergo the treatment:
Good overall condition: Since the process involves surgery, you'll need to be strong and healthy enough to get through the procedure.
A healthy smile: Your dental health also has to be in good condition before starting the treatment. If you have any developing issues like cavities or gum disease, then we'll need to treat them first, as they can interfere with the success of your dental implants.
Sufficient jawbone density: Your jawbone will need to have enough mass and strength to support the titanium posts. Without adequate density, you may need to get a bone graft before you're eligible for implants.
Missing One Tooth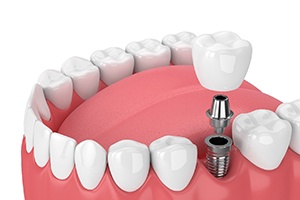 Instead of reshaping the surrounding healthy teeth to replace a single missing tooth with a bridge, one dental implant root topped with a crown can be positioned between the remaining teeth without altering them at all, better preserving your natural smile.
Missing Multiple Teeth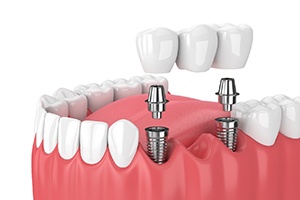 Bridges and partial dentures can be attached to multiple dental implants to fill in larger gaps in your smile and give your new teeth the security that traditional prosthetics simply can't replicate. Plus, implant bridges and partial dentures not only look more natural than regular ones, but they last much longer as well.
Missing All Teeth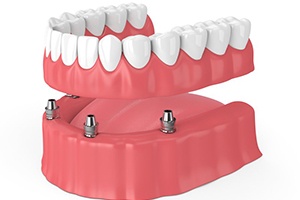 Do you have a denture that's beginning to cause more problems than it solves? Maybe it doesn't want to stay in place when you talk or eat, or it's starting to irritate your gums or jaws. With just six to eight implants, we can give you a set of teeth you never have to worry about again. That's all it takes to anchor a full denture to the jawbone that won't shift, slip, or click as you go about your day.
Learn More About Implant Dentures
Alternatively, with the All-On-4 procedure, we can replace an entire row of teeth in just a single appointment. Just four dental implants are strategically placed into the thickest parts of the jaw, and they're immediately topped with a temporary denture, helping a patient quickly recover their oral function. Then, over the course of a few follow-up appointments, we can provide a better-fitting custom-made denture.
Please keep the current link for the "Learn More About All-On-4" section
Zygomatic and pterygoid dental implants are two types of longer implants that are often recommended when the patient does not have enough healthy bone structure to support traditional, shorter dental implants. By utilizing this modern design, we can rely on facial bones of greater durability, such as the cheekbones, for a reliable anchor. This dental implant style is ideal for patients who do not want to undergo an extensive bone grafting procedure to rebuild their smiles.
Understanding the Cost of Dental Implants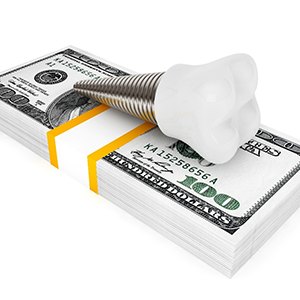 Choosing to replace your missing teeth with dental implants is a long-term investment in your smile and confidence. Of course, our oral surgeons understand if you feel hesitant about completing this treatment because of the high upfront cost. Due to the high level of customization that dental implants provide as well as many other benefits, the cost is generally higher. However, what you pay can largely vary depending on your needs. To learn what they are and how dental implants are surprisingly cost-effective, don't hesitate to call our office directly!
Types of Dental Implants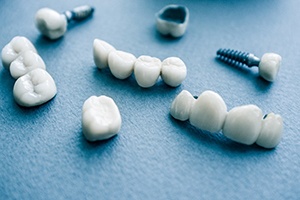 Since every dental implant case is going to be unique, we'll need to confirm a few facts before we start any phase of treatment. For example, we'll need to confirm how many implants you need to replace your missing teeth. Depending on the manufacturer, your implant costs can also vary. Keep in mind that while different types of implants can vary in material used and branding, choosing to replace a single tooth vs. several teeth is going to be what affects your costs the most.
The Stages of Dental Implant Treatment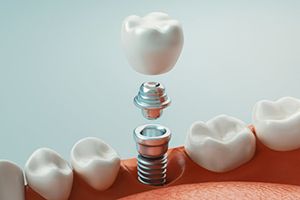 Each phase of dental implant treatment involves a specific cost. For example, the surgery itself to place the implant will be distinct from the costs of placing a restoration to cover the implant as well as the abutment to attach the components together. However, in some cases an abutment may not be needed depending on the type of implant used. Additionally, bone grafting, gum therapy, and other preparatory treatments may be needed first, increasing the overall price tag.
Are Dental Implants Worth the Investment?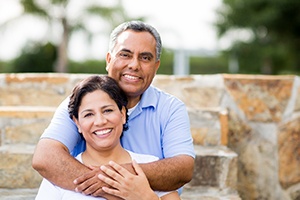 Our team highly recommends dental implants not just for their functionality and esthetics, but mainly due to their long-term cost-effective benefits. Keep in mind that dental implants are designed to last as many as 30 years and even longer once placed into the jaw. When compared to other tooth replacement methods, such as dental bridges and dentures, you can't get the same reliability. As a result, you'll likely need to replace those restorations sooner, leading to a higher long-term cost.
Does My Dental Insurance Cover Dental Implants?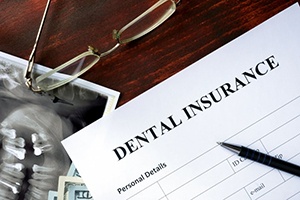 In most cases, dental insurance does not offer coverage for dental insurance. However, there are some instances where you can get coverage for other aspects of the treatment, including the initial consultation to confirm your eligibility and gum therapy to treat dental issues ahead of treatment. Our benefits coordinator will serve as a liaison between you and your insurance company to determine what if any benefits are available, as well as what your copay and deductible amounts are. Once we have determined your out-of-pocket costs, we will then discuss our many payment options, which include cash, personal check, and major credit cards.
Advanced Dental Implant Procedures
It's very common for the jawbone to shrink and atrophy when the teeth go missing, and for many patients, this makes the bone too thin or weak to safely support implants. Fortunately, at South Florida Oral & Maxillofacial Surgery, we can still help patients in this situation enjoy all the advantages of dental implants thanks to advanced dental implant procedures. With treatments like bone grafting, we can help you get ready for your journey towards a new smile
Bone Grafting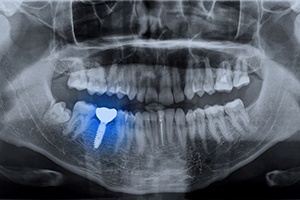 A dental bone graft involves taking bone tissue from another part of the patient's body or a donor and placing it in the jaw to strengthen weakened areas. Healthy gums are preferred but not essential prior to having a graft performed. Any specific needs can be evaluated at the preoperative consultation. You will be given some form of anesthesia to help you relax and keep the procedure comfortable. The doctor will expose the area of the jawbone and prepare it so it is ready to receive the graft. One of our surgeons will then place the grafting material in this area before reapproximating the gums. Prior to leaving our office, you may be scheduled for a follow-up appointment so that we can gauge your progress.
Here at South Florida Oral & Maxillofacial Surgery, we often use the Infuse® bone graft system, which uses bone morphogenetic proteins known to promote bone growth. Bone Morphogenetic Proteins (BMPs) belong to a "superfamily" of proteins that occur naturally in the human body. Scientists have currently identified nearly 20 different BMPs, five of which are known to play an active role in bone formation. These BMPs are in a liquid form that is sprayed onto a bovine collagen "sponge" and placed wherever bone loss has occurred. As the sponge dissolves, new bone forms in its place. An Infuse® bone graft can often eliminate the need to remove bone from a donor site.
Dental Implant Failure & Salvage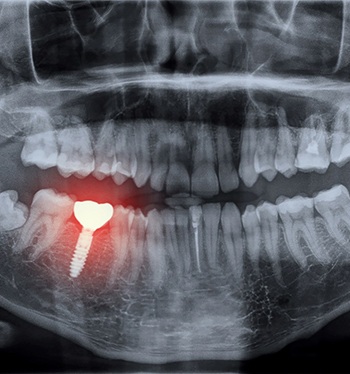 Dental implants boast an impressive success rate of over 95%, even 10 years after placement! However, there is still the remote possibility for failure. If you experience any warnings signs of a failing dental implant, such as pain, swelling, or a loose feeling in the implant, contact us immediately. The sooner we see you, the sooner we can evaluate your situation and determine if dental implant salvage is necessary.
Dental Implant Post-Op Instructions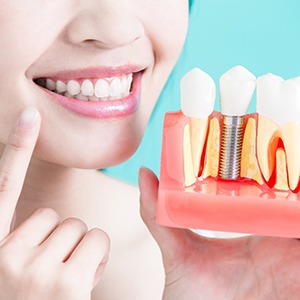 At our practice, we use general anesthesia and different kinds of dental sedation to help you stay relaxed during your procedure; in many cases, you won't even remember the appointment itself! To learn more about preparing for your post-op care and handling common symptoms that accompany treatment, feel free to give us a call, look at our online oral surgery instructions, or check out our detailed steps below for a quick review!
What to Do Directly After Dental Implant Surgery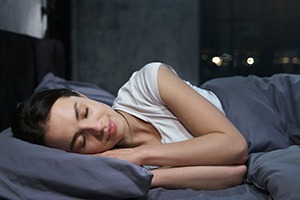 For the first 24 hours after completing dental implant surgery, you should make sure to get plenty of rest and avoid any strenuous activities like exercise. If your job requires you to be heavily active, it's best to take a couple days off to allow your implants to heal properly. Strenuous activities can reduce blood flow to the implants where it is needed to start healing. It's also advised that you avoid using a straw for at least 24 to 48 hours as this can dislodge the clot that's formed on the implant.
Common Side-Effects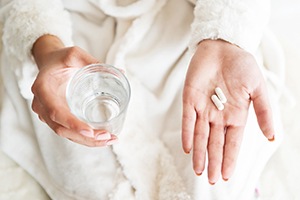 You're likely to experience some discomfort once the numbness in your mouth has worn off. You can control the pain with ibuprofen, or a similar over-the-counter pain medication, taken every 3 or 4 hours or so as needed. The pain will normally fade away after a few days.
Some bleeding for the first 24 hours is normal; if it becomes excessive, you can control it by holding a piece of gauze over the wound for 30 minutes. Apply an ice bag to the area if any swelling occurs.
Diet Guidelines After Surgery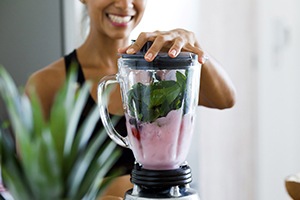 Drink plenty of fluids and avoid excessively hot liquids or foods. Not only is it important to stay hydrated as your implant heals, but exposing your implant site to high temperatures could negatively impact the healing process. Additionally, you should plan on eating soft foods at first and gradually working back up to heartier meals. Some acceptable options include smoothies, mashed potatoes, gelatin, eggs, oatmeal, pudding, ice cream, and other foods that do not require a lot of chewing.
Health & Oral Hygiene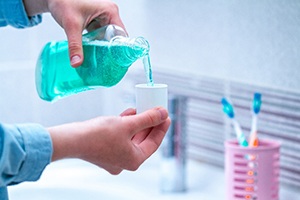 You can also use a dedicated oral rinse recommended by our office. We're happy to write a prescription for a dedicated oral rinse specifically intended to clean areas of the mouth that have received dental implants. Alternatively, you can keep your mouth clean and free of infection by rinsing it with salt water at least 4 to 5 times a day. After a couple days of healing have occurred, you should be able to brush and floss normally while using caution around the implant site.
What to Do After Your New Teeth Are Attached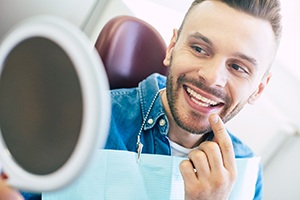 At your final appointment where your dental implants are covered with a dedicated restoration, we'll discuss all the necessary maintenance steps you'll need to take to ensure they last. We'll explain what acceptable oral hygiene practices at home should look like and what you should avoid to prevent dental implant failure.
Maintaining & Caring For Your Dental Implants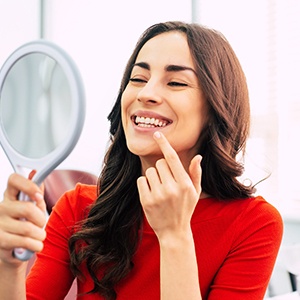 Dental implants can last for many decades and may even stay in your mouth for the rest of your life without needing to be replaced. To give your implants the longest lifespan possible, you need to take good care of them on a daily basis. Your goal should be to prevent the damage and oral health issues that can potentially lead to implants being removed or replaced. Fortunately, this is very simple to accomplish with the right oral hygiene habits.
Make Oral Hygiene a Priority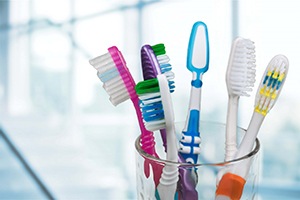 You can't stop brushing and flossing just because you have implant restorations instead of natural teeth. Any bacteria that builds up in your mouth can still cause inflammation of the gums, and that in turn can lead to bone loss and implant failure. Make sure that you continue brushing at least twice a day, and pay careful attention to your gumline as you do so. Start flossing if you don't already; it's the most reliable way to clean the spots that a toothbrush cannot reach.
Eat a Healthy Diet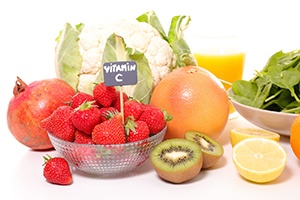 People with traditional dentures often have trouble maintaining good nutrition because certain foods become more difficult to chew when the teeth aren't anchored in place with roots. Thanks to the stability of implants, you can eat basically whatever you want, which means you're in full control of your diet. Try to limit the amount of hard, sticky, or sugary foods you eat, as they can potentially wreak havoc with implants or lead to oral health issues. Instead, focus on foods with calcium and vitamin C that will contribute to healthy bone and gum tissues.
Break Bad Habits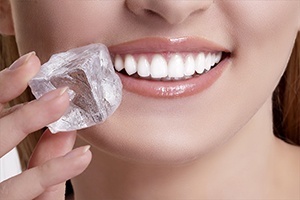 There are certain bad habits that can eventually cause dental implants to break, such as chewing on fingernails, crunching ice, or opening packages with your teeth. Take note of your bad habits and take steps to break them as quickly as possible. If you smoke or chew tobacco, it's highly recommended that you stop before getting dental implants. The presence of tobacco in the mouth slows the healing process and increases the risk of infection.
Protect Your Dental Implants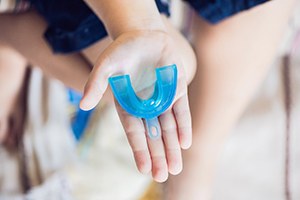 Be proactive about protecting your dental implants from damage by investing in a mouthguard. This simple oral appliance is crucial for anyone who plays sports of any kind, particularly those that carry a high risk of contact. You can also use a mouthguard to prevent your teeth from grinding together at night, thus preventing wear and tear from occurring during a time when you have very little control over your mouth.
Schedule Regular Dental Checkups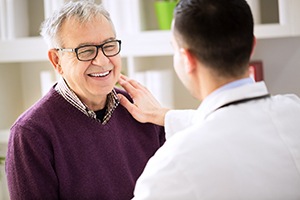 You can return to our practice every six months for regular checkups and cleanings. We'll keep an eye on your implant and take note if anything changes. As soon as we spot an issue such as a damaged restoration or a warning sign of bone loss, we'll discuss your treatment options with you so that the problem can be taken care of as soon as possible, minimizing the risk that the implant will need to be removed.
Dental Implant FAQs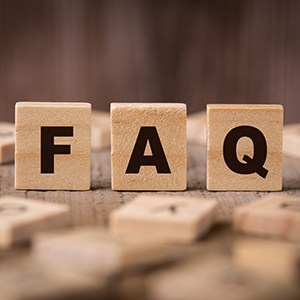 Dental implants have been around for several decades now, but many people only learn about them when they need to have a tooth replaced. If this is your first time hearing about dental implant treatment, we understand if you have some questions or concerns for our oral surgeons. Consider the most common questions we hear below and our answers ahead of your next appointment. You're always encouraged to give us a call directly and schedule a consultation to learn more!
Are Dental Implants Safe?
If you have good health and your implants are placed by a professional, you can expect your treatment to be not only successful, but safe. Even in the event that you have low jawbone density or gum disease, our team can help you address these issues ahead of your dental implant surgery. However, those with diabetes, cancer, or other medical conditions that affect their body's ability to heal may be taking a higher risk if they choose dental implants. We encourage you to speak with us directly about these concerns during your consultation.
Does Getting Dental Implants Hurt?
Ahead of your oral surgery, we will administer a local anesthetic to your mouth to ensure no sensations are felt during your procedure. Furthermore, our office can provide sedation dentistry as well if you believe you are feeling too anxious to undergo dental implant surgery without it. With all that said, it's normal to experience some minor swelling and discomfort over the next few days after your surgery. We'll prescribe medication that you'll take during your recovery period and suggest using cold compresses to bring down swelling. If your discomfort does not improve with time, please give us a call.
What Can Cause Dental Implants to Fail?
Dental implant failure is a relatively rare occurrence, but it can happen. If it does, it's usually due to peri-implantitis or failed osseointegration. If peri-implantitis develops, it's typically due to poor oral hygiene. This leads to damage of the bone and gum tissue supporting the implant. If the implant fails to integrate, it may be due to the lack of available bone tissue or the density of the jawbone. If you happen to grind and clench your teeth, use tobacco, take certain medications, or have specific health conditions that affect healing, dental implants can also fail. Despite all this, our office is fully prepared to minimize the risk of failure and ensure the most successful dental implant treatment possible.
How Long Does it Take to Recover from Dental Implant Surgery?
In most cases, you should be able to resume your normal day-to-day activities a few days after your surgery occurs. However, we do recommend that you avoid strenuous activities for the first week or so. Exerting excessive energy can negatively impact the healing process. You should notice any bleeding begin to dwindle after a day or two. Swelling generally subsides after a few days. Keep in mind, though, that integration will take several months to complete. In the early days following your surgery, you are encouraged to take over-the-counter painkillers to manage any lingering discomfort.
Do Dental Implants Decay?
Dental implants are not made from organic materials, such as bone tissue. That means they cannot develop decay whatsoever. The same applies to the restoration that sits on top of the implant. However, it is possible for remaining natural teeth to get cavities and for the gums that heal around the implant to become infected if you don't practice daily oral hygiene. For that reason, you need to remain committed to a strict routine of brushing and flossing at home and visiting our office for biannual exams and cleanings.
How Long Does Dental Implant Surgery Take?
The length of your surgery depends on a few key factors. For example, the more implant posts you need to have placed, the longer you can expect your surgery to be. On average, a single dental implant can take one to two hours. Of course, the time needed to administer anesthesia (and potentially dental sedation) as well as dress your mouth for a sterile, surgical atmosphere also impacts your treatment length.
How Can I Tell if My Dental Implants are Failing?
While it's very unlikely to occur, it's important to stay aware of the signs of dental implant failure as soon as they appear. For example, if you notice that your dental implant feels loose, you could save it by getting in touch with our office as soon as possible. Additionally, continued or worsening pain or swelling a week after surgery was completed could mean implant integration is not occurring as intended or an infection has developed.