Implant-Retained Dentures – Jupiter, FL
Secure New Teeth
When an entire arch of teeth is missing, most patients will naturally think of getting dentures that will let them continue to speak clearly and eat a wide variety of meals. Traditional dentures might slip on occasion, especially if the shape of your jawbone changes; luckily, at South Florida Oral & Maxillofacial Surgery, we can make your new smile more secure with implant-retained dentures. Contact our office today to ask about this procedure if you or a loved one might be facing life without teeth soon.
Why Choose South Florida Oral & Maxillofacial Surgery for Implant-Retained Dentures?
Board-Certified Oral Surgeons Who Are Available 24/7
Stronger, More Secure Replacement Teeth
Dental Insurance Accepted and Maximized
How Do Implant-Retained Dentures Work?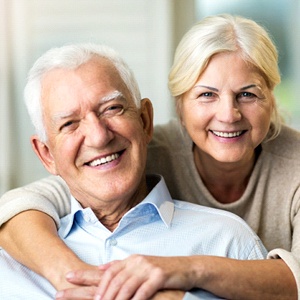 Traditionally, dentures use suction to stay in place on your gums; in some cases, you might also need to use denture adhesive. However, modern dentists can use dental implants to add some stability to your false teeth.
Dental implants are titanium posts that sit in the jaw; they fuse with the bone through a process called osseointegration. Four to eight implants can support an entire arch of teeth. The dentures are permanently secured to the implants so that you'll never have to worry about them slipping out of place.
Am I a Candidate for Implant-Retained Dentures?
We'll need to examine your mouth and take your overall health into account before we decide whether you're a candidate to receive implant-retained dentures. We'll specifically need to consider:
Extent of Tooth Loss: Implant-retained dentures are for patients who have lost all or most of the teeth in their upper or lower jaw.
Bone Loss: Has your jawbone started to deteriorate? You might need bone grafts before you can get dental implants.
Oral Health: If you have gum disease, your dental implants might not integrate with your mouth correctly and could fail. Thus, any existing infections need to be treated first.
Smoking: Cigarettes hinder your mouth's ability to heal, putting your dental implants at risk. Smokers might still be candidates for the surgery if they stop using tobacco before and after the procedure.
The Implant-Retained Denture Process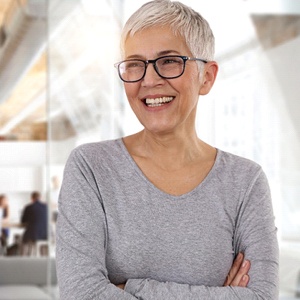 After bone grafting, periodontal therapy and any other preparations are complete, we'll schedule your implant placement surgery. This is where the implant posts are surgically placed in your jaw. After that, we'll need to wait a few months for osseointegration to take place. Once the implants are ready, we can attach your new dentures.
Benefits of Combining Dentures & Dental Implants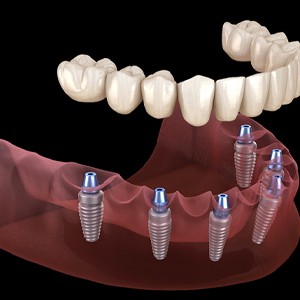 In addition to the improved stability, there are several advantages to getting implant-retained dentures:
Functionality: The support that implants provide will make your dentures stronger and thus able to withstand more biting force. You'll be able to enjoy a wider variety of foods than you would with traditional false teeth.
Appearances: Since the implants are hidden from view and anchor the dentures to the gums, your new smile will look far more natural.
No Bone Loss: Dental implants will stop your jawbone from deteriorating, a common side-effect of missing teeth that can cause traditional dentures to come loose.