Full Mouth Reconstruction – Jupiter, FL
Your Personalized Plan for Renewed Oral Health
Countless individuals suffer from complex or extensive oral health problems. If you are among them, we invite you to come to our office to talk about full mouth reconstruction in Jupiter. This personalized treatment plan can address even serious issues, including broken teeth, missing teeth, and so much more. We will partner with your general dentist to get you on the road to a confident, pain-free smile. Contact us today to learn more.
Why Choose South Florida Oral & Maxillofacial Surgery for Full Mouth Reconstruction?
Experienced, Board-Certified Oral Surgeons
Partners with Your Dentist for Optimal Results
Financing & Insurance Welcome
Is Full Mouth Reconstruction Right for Me?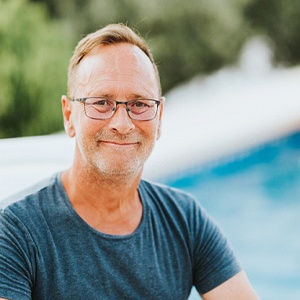 Full mouth reconstruction may be right for you if:
You have missing, broken, or severely decayed teeth
You struggle with gum disease
You hesitate to smile in public due to the state of your oral health
It is difficult or painful for you to eat your favorite foods
You want an efficient treatment plan to get your oral health back on track
Patients who undergo full mouth reconstruction tend to report, not only that they enjoy improved oral health, but also that they experience a multitude of other benefits. For example, they may experience a boost in their self-confidence, improved mental and emotional well-being, and a fresh commitment to taking care of their overall health.
The Full Mouth Reconstruction Process
Is Full Mouth Reconstruction Right for Me?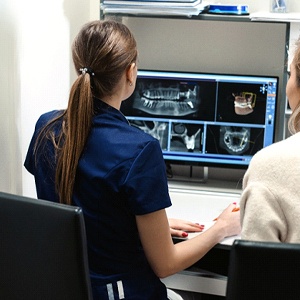 The full mouth reconstruction process begins with a consultation, either with us or with your general dentist in Jupiter. We will get to know your oral health and design your customized treatment plan. Our office uses digital smile design software, so you will be able to see a realistic preview of what your smile will be like after you complete the recommended procedures.
Some of the services that may be part of your full mouth reconstruction plan include:
Dental implants or other forms of tooth replacement
Removal of badly broken or decayed teeth
Crowns or fillings to repair damaged but salvageable teeth
Cosmetic treatments to put the finishing touches on your renewed smile.
Understanding the Cost of Full Mouth Reconstruction
The cost of full mouth reconstruction varies from case to case. It depends on numerous factors, including which specific treatments you undergo, the extent of those treatments, your dental insurance coverage, and more. Our team will always be upfront with you about pricing, and we will do everything within our power to help you afford your care. For example, because we are in-network with many insurance plans, we can help you navigate your benefits. We can also assist you as you apply for financing. Although full mouth reconstruction presents a significant upfront cost, you can be sure that its benefits make it a smart investment!
Full Mouth Reconstruction FAQs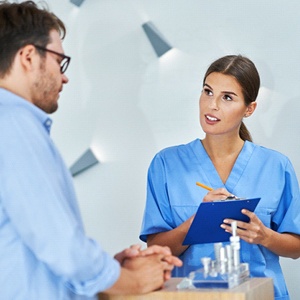 Our oral surgery team is ready to partner with your general and cosmetic dentist in Jupiter to help you on your road back to renewed oral health. Before you schedule your consultation with us, however, you may want to know more about the process in front of you. To help you out, we have compiled a list of some frequently asked questions about full mouth reconstruction. If you don't see your specific concerns addressed, please reach out to us so we can personally assist you.
How Long Does Full Mouth Reconstruction Take?
The timeline for full mouth reconstruction in Jupiter depends on a few factors, including:
The state of your oral health. Complex issues may take more time to correct.
Which procedures you undergo. Some procedures take much longer than others to complete. For example, a crown may require just a few visits to your dentist's office. Dental implants, on the other hand, require several months for start-to-finish care.
Whether some treatments can be completed simultaneously. We will do our best to design an efficient full mouth reconstruction plan for you.
How Long Will My Full Mouth Reconstruction Results Last?
The results of various dental treatments have different lifespans. For example, if you care well for your dental implants, they have the potential to last for 30 years or longer — perhaps even for the rest of your life. Other types of restorations, such as traditional dentures, might endure for just 5 – 7 years before requiring replacement. Crowns and veneers often last for well over 10 years before they wear out.
You can prolong the results of your treatment by sticking to a good oral hygiene routine, visiting your dentist for regular checkups, and avoiding tobacco use.
Does Undergoing Full Mouth Reconstruction Hurt?
Our team always strives to make patients as comfortable as possible during their oral surgeries. We do so with both local anesthesia and, in many cases, sedation. After any sedation or anesthesia wears off, you can expect to feel some soreness at the site of your surgery. There may also be some bleeding and swelling. We will give you detailed instructions to minimize such side effects and facilitate a smooth, complication-free recovery. For example, you might need to take painkillers, get plenty of rest, and temporarily alter your diet.
Can I Get Full Mouth Reconstruction if I Smoke?
Smoking is detrimental to oral health, so we strongly encourage all of our patients who smoke to kick the habit as soon as possible. It can slow down your body's ability to heal after oral surgery and lead to other unpleasant consequences. If you are struggling to quit smoking, you may find some practical help by visiting your primary care practitioner.
We recognize that breaking free from tobacco is extremely challenging, so smoking is not an absolute contraindication for full mouth reconstruction. We will carefully consider all relevant factors, including your overall health, your oral hygiene habits, and more, before we can determine how best to treat your unique dental problems.