Sedation Dentistry – Jupiter, FL
Your Comfort Comes First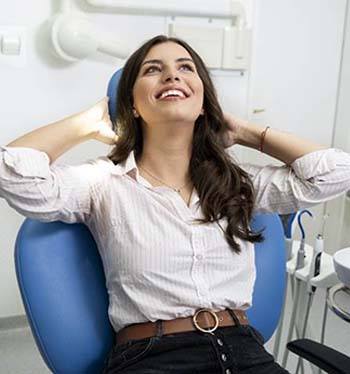 Dental procedures such as the ones offered here at South Florida Oral & Maxillofacial Surgery can be performed very comfortably thanks to the use of various types of sedation dentistry in Jupiter, FL. We know that just the idea of undergoing oral surgery is enough to make many people feel uncomfortable, but using the techniques below, we're able to drastically reduce and even eliminate both mental and physical discomfort for even the most nervous patient. To learn how we can use sedation to make your time with us as stress-free as possible, contact us today.
Why Choose South Florida Oral & Maxillofacial Surgery For Sedation Dentistry?
Office of Oral Surgeons All Certified in General Anesthesia
4 Highly-Skilled Oral Surgeons Under One Roof
A Variety of Options to Meet Your Unique Needs
Who Is a Good Candidate for Sedation Dentistry?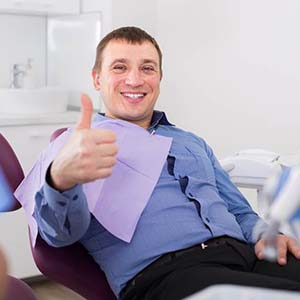 At South Florida Oral & Maxillofacial Surgery, your comfort comes first. However, that doesn't mean that the same type of dental sedation is right for everyone! That's why we're proud to offer a wide variety of different sedation techniques to help meet your unique needs and preferences. You may be a good candidate for sedation dentistry if you:
Regularly miss or postpone appointments because of dental anxiety
Dislike the typical sights, sounds, smells, and other sensations of the dental office
Are feeling particularly anxious or nervous about your upcoming appointment
Have particularly sensitive teeth or overactive gag reflex
Have physical issues that make sitting still for a long period of time uncomfortable
Have jaw problems that make holding the mouth open difficult or painful
Are having a long or extensive procedure completed
Would be more likely to visit the dentist if you weren't afraid or uncomfortable
Have children who are scared of the dentist
Have special needs
Local Anesthetic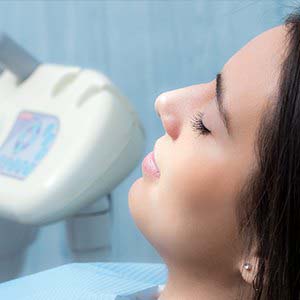 Local anesthetic is used to numb any area we intend to treat so that a patient doesn't feel physical discomfort while in the chair. In many cases, we first apply it topically, and then the rest is administered using an injection. Our team strives to make this part of a procedure as comfortable as possible, and we use anesthetic conservatively so a patient doesn't have to deal with hours of lasting numbness after an appointment.
Nitrous Oxide Dental Sedation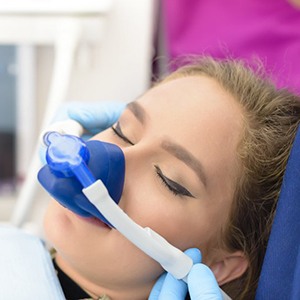 Nitrous oxide is a colorless, odorless gas that is excellent for soothing patients who experience minor nervousness when receiving dental care. A patient simply breathes it in through a small mask placed over the nose, and within a few minutes, they should feel relaxed and euphoric. Nitrous oxide also has a slight anesthetizing effect and lowers the body's ability to feel physical pain. The mask remains on for the entire appointment, and after it's taken off, the gas' effects go away almost instantly, meaning a patient can quickly resume their normal day.
Who Is a Good Candidate for Nitrous Oxide?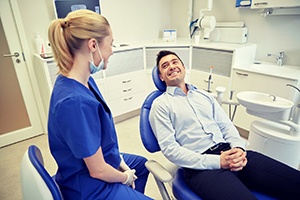 If you're interested in making your procedure easier with nitrous oxide sedation, we'll gladly discuss your eligibility with you. We most often recommend nitrous oxide for patients who:
Feel anxious or fearful about an upcoming appointment.
Have sensitive teeth or a touchy gag reflex that can make oral care difficult or impossible without sedation.
Experience pain in their back, neck, shoulder, or legs while sitting in the treatment chair.
Have difficulty holding their mouth open for prolonged periods of time.
Cannot sit still long enough to complete the necessary treatment.
Have special needs.
Many patients can benefit from nitrous oxide sedation, but it's not right for everyone. Before your procedure, we'll need to make sure that nitrous oxide is a safe option for you by reviewing your medical history as well as the state of your health right now. More often than not, we won't recommend nitrous oxide for patients who are pregnant, have high blood pressure, are currently experiencing nasal congestion, and a few other conditions. We'll make sure that there are no risks present before administering this type of sedation.
How Does Nitrous Oxide Work?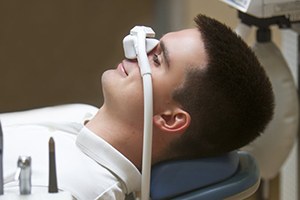 Nitrous oxide is delivered through a small mask that we fit over your nose. Once you begin inhaling this gas, it starts displacing the air in your lungs. As a result, less oxygen is able to reach your brain, which results in a warm, calm, and overall happy feeling. It also dulls the body's ability to register pain and suppresses the gag reflex, making it a cinch for us to perform the treatment you need.
You won't exactly be "put to sleep" with nitrous oxide, but your memory of the procedure will most likely be fuzzy. Our team will monitor your vitals the entire time so that we can adjust the dosage of the sedative immediately if need be. After we've finished your procedure and taken off your mask, the effects of the gas should wear off just as quickly as they kicked in.
Aftercare for Nitrous Oxide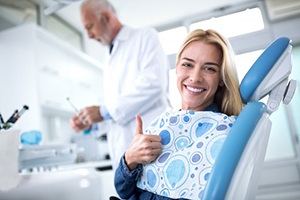 Patients often prefer nitrous oxide to other methods of dental sedation due to its short recovery time. Instead of having to make arrangements for transportation after your appointment and being groggy for the next several hours, nitrous oxide wears off within just a few minutes. You should be able to drive yourself back home or to work and carry on with your day as normal. There is a small chance of minor side effects after nitrous oxide sedation, such as mild nausea, but the overwhelming majority of patients feel perfectly fine once their appointment is over.
General Anesthesia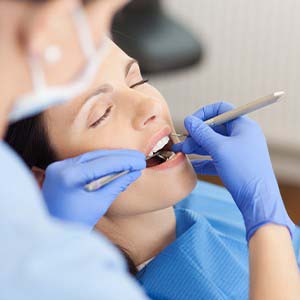 Our team goes above and beyond to make sure our patients are comfortable during their procedures in our office. That is why we offer multiple types of sedation dentistry. Nitrous oxide and IV sedation are both quite effective, but some patients require even more powerful help to breeze through their appointments. That is why we also offer general anesthesiology.
The type of general anesthesia we use is similar to the kind utilized during extensive surgery, in that it enables a patient to quickly fall asleep and stay unconscious throughout an entire procedure, waking up with no memory of it afterward. However, ours is much gentler by comparison, meaning it's easier for patients to wake up, plus they won't experience as much grogginess or confusion, helping them begin their recovery even faster. All of our oral surgeons have been certified by the Florida Board of Dentistry for General Anesthesia. This ensures that you receive the best treatment by our highly-educated dental professionals.
What Is General Anesthesia?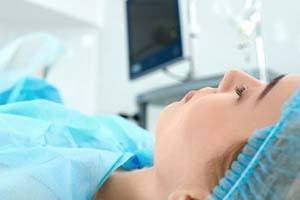 General anesthesia is a type of sedation that uses both inhaled gases and intravenously administered medicine to make patients lose consciousness. It is similar to what is used in hospitals when patients are undergoing major surgery. However, our form of general anesthesia is much gentler. When you are under general anesthesia, you will be unable to feel any sensations, and you will not be able to respond to any outside stimuli.
Who Is a Candidate for General Anesthesia?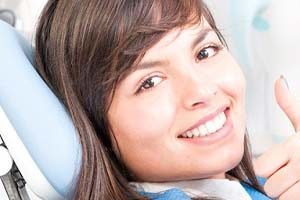 Because general anesthesia is so powerful, we do not recommend it for everybody. However, it is an extremely useful tool that might be suitable for you if:
You have a very high tolerance for other forms of sedation.
You suffer from extreme anxiety related to dentistry or medical procedure. Your fear may be so strong that it would prevent you from remaining still and calm even if you were sedated by means other than general anesthesia.
You must undergo an especially complex or extensive form of oral surgery.
You are free from any health conditions that would make it notably risky for you to be put under general anesthesia.
Before and After General Anesthesia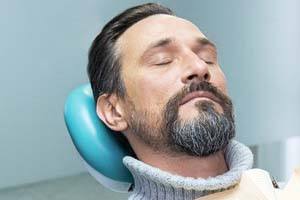 Here are a few notes on what to expect both before and after you are put under general anesthesia:
Before your procedure, you may need to temporarily stop taking certain medications, such as blood thinners.
You should not eat for the last several hours before you are put under general anesthesia.
After you wake up from the anesthesia, you might be a little groggy or experience other mild side effects. However, these should wear off fairly quickly.
It is important that you have a friend or family member available to drive you home after your appointment. After 24 hours or so, the anesthesia will be out of your system and it should be safe for you to drive.
IV Sedation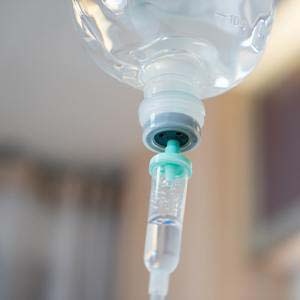 IV Sedation involves administering a sedative directly into the bloodstream using a small injection in either the hand or arm. Almost instantly, it helps a patient feel completely relaxed from head to toe, and we can adjust it as needed to suit someone's unique comfort level. We usually recommend it for people with extreme dental phobia, those who require an invasive procedure, or patients who want multiple treatments completed in one well-planned visit in order to save time. Our Oral Surgeons here at South Florida Oral & Maxillofacial Surgery have all completed 4-Year residency training to do all levels of IV Sedation, ensuring that they provide you with the treatment you need at a higher level of expertise than a general dentist.
What Is IV Sedation?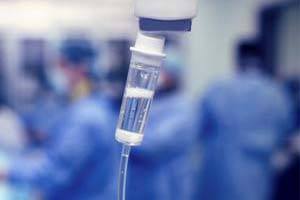 The medication used for IV sedation is administered directly into your bloodstream. This is sometimes called "sleep" dentistry, but you will not actually be unconscious. You'll still be awake to answer questions and follow simple directions. You will, however, be in an extremely relaxed and sleepy state. This type of sedation often results in amnesia; in other words, you won't remember much about the procedure itself, if anything at all. In addition to being recommended for patients with severe dental phobia, IV sedation is also usually used for patients who need an invasive procedure or are having multiple treatments done during one visit.
How Does IV Sedation Work?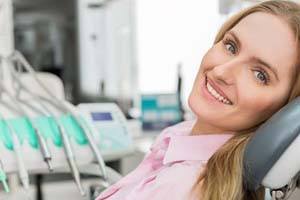 Our oral surgeons will use a needle to insert a tube into one of your veins. (In most cases, we'll use the vein on top of your hand.) You'll start to relax once the drug has been administered into your bloodstream; time will seem to pass very quickly at this point. You'll keep the IV in your vein throughout the procedure. To make sure you stay safe, we'll monitor your pulse and blood oxygen levels. Once the procedure is done, you'll need someone else to drive you home and monitor you until the effects wear off completely.
What Are the Benefits of IV Sedation?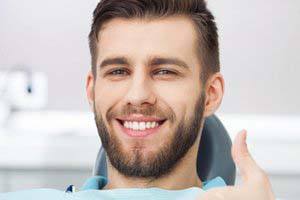 Total Comfort: You'll neither know nor care what's going on around you while your surgery is being performed.
Adjustable: The level of sedation can be adjusted throughout the procedure if needed.
Fast-Acting: The sedation will take effect very quickly after it has been administered.
Dentist Interaction: You'll still be able to help your dentist throughout the procedure by answering any necessary questions.
No Gagging: Patients with a powerful gag reflex may find that their symptoms are greatly reduced when under IV sedation.
Exparel® Opioid-Free Anesthesia
If you have watched the news for even a minute over the past few years, then you likely know that the US is currently going through an opioid crisis. Opioids are often used with anesthesia for oral surgery in order to protect a patient from pain, but this can lead to a variety of undesirable side effects, including nausea, itching, and constipation in addition to the risk of addiction. To ensure our patients enjoy comfortable treatment and avoid these potential pitfalls, we use Exparel® opioid-free anesthesia at South Florida Oral & Maxillofacial Surgery, helping individuals and our community at large at the same time. Exparel® is a long-acting local anesthetic, this ensures that you will remain pain-free for up to 72 hours after surgery and eliminates the need for prescription opioids.
What Is Exparel?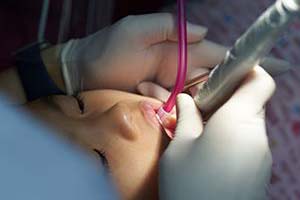 Exparel is a one-time injection given on the day of surgery that is proven to prevent the onset of pain and swelling. It doesn't require any follow-up doses and is designed to stop pain when it matters the most—during the first two to four days following surgery. If a patient needs more help during their recovery, they can take either ibuprofen or a small amount of prescribed opioid medication.
The Benefits of Exparel
Targeted Pain Relief: Most pain-relief medications affect the entire body and make someone feel very drowsy and "out of it." With Exparel, the medication is applied right where it's needed in the mouth and is felt nowhere else.
Reduced Addiction Risk: If you've watched the news at all over the past few years, then you know that opioid addiction is a serious problem plaguing America right now. Our team strives to help by allowing our patients to largely avoid these types of drugs so there is virtually no risk of negative, long-term consequences.
Less Pain & Swelling: Because Exparel is administered on the same day as surgery, a patient will start benefitting from its pain relief right away, rather than having to take time to fill a prescription, take medication, and wait for it to kick in.
Is Exparel Right for You or Your Child?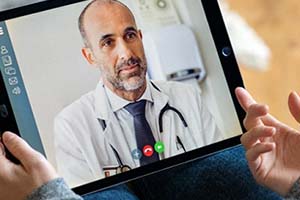 Exparel has been successfully utilized for both children and adults for years in a wide variety of medical fields, not just oral surgery. When you or your child come to see us for a consultation, discussing pain-relief options will definitely be part of the process. We always ask about a patient's dental and medical history so we can recommend the appropriate treatment to ensure the best long-term results. The majority of patients are good candidates for Exparel and enjoy the peace of mind that comes with it (this is particularly true for parents).
Thanks to Exparel, our patients are able to enjoy fast and easy recoveries without relying on potentially addictive medication, and it's just another way we go above and beyond to serve the community at large. To learn more about Exparel and whether or not it would be a good fit for you or your child, give us a call today.
Sedation Dentistry FAQs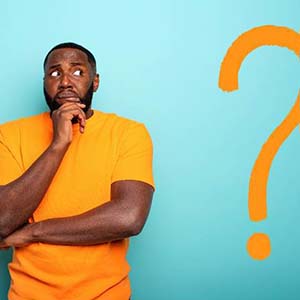 At South Florida Oral & Maxillofacial Surgery, your comfort comes first. From our relaxing office atmosphere to our friendly and compassionate team, we do everything we can to make your visit as relaxing as possible. Our highly trained professionals are proud to offer a variety of dental sedation that can help patients overcome fears and discomfort to get the care for their smile that they need. We'll be more than happy to answer any and all of your questions when you visit us for an appointment, but in the meantime, we've gathered some of the most common questions we get about sedation dentistry below.
Is Sedation Dentistry Safe?
When administered by a seasoned professional with years of advanced training and experience like Dr. Weinstein, Dr. Thompson, Dr. Guzman, or Dr. Chafin, sedation dentistry is extremely safe. As Diplomates of the American Dental Society of Anesthesiology, our doctors are committed to providing the safest and most effective means of dental sedation. In addition to thoroughly reviewing your medical history and determining which type of sedation is best for you, we will monitor your vital signs at all times while you are sedated to ensure your comfort and safety.
Which Type of Sedation Is Right for Me?
We're proud to offer a wide variety of different types of sedation dentistry to ensure that everyone can get exactly what they need. Each option comes with its own advantages and considerations, and not all patients are good candidates for all types of sedation. To determine if dental sedation is right for you and which type you would benefit most from, we will see you for a consultation. We'll go over your medical history, health conditions, and overall level of anxiety before fully explaining which types of sedation would be best for you.
Who Shouldn't Get Sedation Dentistry?
While most patients are good candidates for sedation dentistry, there are some exceptions. There are some factors that can limit which types of sedation are a good choice for you, or if you should be sedated at all. Typically, we won't recommend sedation dentistry for patients who:
Have a breathing problems such as obstructive sleep apnea
Are currently experiencing nasal congestion
Have certain medical conditions that may put them at risk of complications
Will Sedation Dentistry Put Me to Sleep?
With the exception of general anesthesia, no, sedation dentistry does not knock you unconscious. Many patients feels so relaxed and comfortable that they may doze off during their procedure, but they can be easily awoken. In most cases, you'll remain conscious enough to respond to our questions and instructions throughout your treatment. You'll remain conscious during your procedure, but will be oblivious to the sights, sounds, and sensations that would normally cause you anxiety or discomfort. That being said, many patients feel as though they were knocked out or asleep during their appointment because they have little to no memory of it.
Can Older Adults or Children Benefit from Dental Sedation?
Since our team of board-certified sedation dentists offers several different options to choose from, we're proud to say that we can help almost any patient find a method that works best for them. Even children and older adults who are anxious or uncomfortable can likely benefit from dental sedation as long as they are in good health. For these cases, nitrous oxide is often the safest and most effective, as it is the lightest form of sedation and the effects wear off quickly. During your consultation, we'll take into account a wide variety of factors to determine which option would work best for your loved one.
Is Sedation Dentistry Safe While Pregnant or Breastfeeding?
Generally, sedation dentistry is not recommended for patients who are pregnant. If at all possible, it's best to avoid dental sedation while pregnant and postpone your treatment until after giving birth. However, professionals agree that sometimes dental sedation is necessary to address serious oral health issues that could influence the health of your baby. For these situations, it is often best to use sedation dentistry in the second trimester and to use lighter forms of sedation, such as nitrous oxide sedation or oral conscious sedation. Sedation dentistry is very safe for woman who are breastfeeding since there's an extremely low chance that the medications will affect breast milk.
Can You Still Feel Pain with Sedation Dentistry?
With general anesthesia, you won't feel any pain or sensation during your treatment as you'll be unconscious. However, even though all other forms of dental sedation keep you conscious and are not necessarily pain relievers, you are unlikely to feel any discomfort or pain with their help. Sedation dull the body's senses and inhibits the ability to register pain. So while you may feel slight sensations or pressure in your mouth as we work, it is very unlikely that you will feel anything that comes close to pain.
What Does Dental Sedation Feel Like?
Naturally, experiences vary from patient to patient and method to method. Generally, patients who opt for nitrous oxide sedation report feeling light, weightless, and warm. They often also feel happy and perhaps even giggly, which is where it earns its nickname laughing gas. On the other hand, oral conscious sedation and IV sedation cause a deeper level of relaxation, often accompanied by a heavy feeling in the limbs and grogginess. Each option is so relaxing that patients sometimes drift off to sleep during their treatment, but can be easily awoken with a gentle shake when needed.
How Long Does It Take to Recover from Sedation Dentistry?
Recovery time differs between sedation options. With nitrous oxide sedation, the medication and the effects will both completely leave your system within a few minutes of having the mask over your nose removed. You'll return to your natural level of consciousness and should even be well enough to drive yourself home and continue on with the rest of your day uninterrupted. The effects of oral conscious sedation come on slowly and wear off gradually, so you should plan on feeling sleepy and groggy for several hours after your appointment. As the most powerful form of dental sedation, IV sedation often reuiqres that patients relax for the remainder of their day after treatment as the effects wear off.
Will I remember the treatment after dental sedation?
Even though you are technically awake with most forms of sedation, chances are that you won't remember much of your treatment. IV sedation is more likely to make you forget your procedure than oral conscious sedation or nitrous oxide. The memory loss effect that sedation has can make getting dental care much easier for patients with extreme dental anxiety and phobia.
Can dental sedation make me sick?
It is quite rare to feel nauseous with nitrous oxide sedation. Because oral conscious sedation is stronger than nitrous oxide, there is a slightly higher risk of nausea. Just to be safe, your dentist will likely recommend that you don't eat for a few hours before your procedure. If you have trouble skipping meals, you may want to schedule your appointment in the early morning. IV sedation has an elevated risk of nausea due to its stronger effects. If you are prone to feeling nauseous, simply let your dentist know and they can adjust accordingly.
What are the risks with sedation dentistry?
Even though sedation dentistry in Jupiter is safe for most patients, it can still present risks for some people. Those with obstructive sleep apnea or who are taking certain medications might be more likely to experience complications with sedation. Also, keep in mind that everyone reacts differently to sedatives and the medications that are used during a dental procedure. It's completely normal to experience a few side effects after being sedated, such as nausea, headache, and grogginess. They may last for several hours following the procedure.
Is sedation dentistry covered by insurance?
Since sedation dentistry is considered a "luxury," it's typically not covered by dental insurance providers. Of course, there are some exceptions. If the procedure is especially complex or you have a disability that makes it impossible to receive the necessary care you need without it, then coverage may be available. If you aren't familiar with your benefits, that's okay. Our team would be more than happy to help you navigate your plan and understand the cost completely.
Am I a good candidate for sedation dentistry?
If you experience dread or severe anxiety at the idea of going to the dentist's office, you might benefit from sedation dentistry. Putting off oral care due to fear will only allow minor issues to worsen and become serious problems. You might also be a good candidate if you have low pain tolerance, a sensitive gag reflex, or difficulties sitting still or holding your mouth open for prolonged periods. If you'd like to get extensive dental work done in one visit, dental sedation can make for a more comfortable experience. Your dentist will go over your medical history and list of medications beforehand to find out if sedation is right for you.