Talented Jupiter, FL Oral Surgeon
Get to Know Dr. David Holland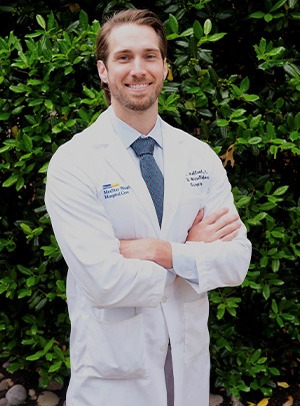 Dr. David Holland is a board-eligible oral and maxillofacial surgeon joining South Florida Oral and Maxillofacial Surgery in Palm Beach County, Florida. With his commitment to patient comfort and education, Dr. Holland is dedicated to providing the highest standard of oral surgery services to his local community. Dr. Holland has a deep connection to the Palm Beach County Community and a great desire to contribute to the well-being of its residents.
Where Did You Study Oral Surgery?
Dr. Holland's love for South Florida began while competing on the junior tennis circuit, where he was ranked top 10 in the nation, earning him an athletic scholarship to attend Duke University. After graduating from Duke, Dr. Holland moved to North Palm Beach, where he furthered his science background, and coached his cousin in tennis.
His journey towards becoming an oral and maxillofacial surgeon began with his exceptional academic achievements. At Duke, he was a member of the ACC All-Academic team. He graduated at the top of his class from Columbia University College of Dental Medicine, where he received his DDS degree. During his time at Columbia, he was honored with the Herbert J. Bartlestone Scholarship Award for outstanding academic and research performance, and the Abraham and Martha Barnett Scholarship Award for his excellence in academic performance.
Continuing his pursuit of excellence, Dr. Holland completed a rigorous four-year residency program in Oral and Maxillofacial Surgery at the renowned MedStar Washington Hospital Center, affiliated with Georgetown University in Washington, D.C. He served as Chief Resident in his final year, further honing his exceptional clinical and leadership skills. Throughout his residency, Dr. Holland received extensive training in various aspects of oral and maxillofacial surgery. He developed comprehensive knowledge in dentoalveolar surgery, orthognathic surgery, trauma management, tumor resection and reconstruction, and temporomandibular disorders. Moreover, he gained extensive knowledge and experience in administering general anesthesia and IV sedation. Dr. Holland's training at WHC included a focus on dental implants, as the institution is renowned for its elite dental implant program. Dr. Holland's special surgical interests lie in corrective (orthognathic) jaw surgery, bone grafting, dental implant reconstruction, and the removal of third molars.
Dr. Holland's commitment to staying at the forefront of his field is evident through his involvement in research and presentations. He is currently co-first authoring a study on dynamic image navigation in 3rd molar removal and full mouth dental implants, working alongside Dr. Robert Emery, the founder of X-Nav Technologies LLC. Dr. Holland has also conducted research in collaboration with Dr. Wendy K. Chung, Director of Clinical Genetics at Columbia University Medical Center and has presented his research at several prestigious events, including the Annual Birnberg Competition and the Greater NY Dental Conference.
Outside of the Dental Office, What Do You Like to Do?
Outside of his professional endeavors, Dr. Holland enjoys traveling and spending quality time with his wife Camilla, who hails from Brazil, and their beloved mini–Australian Shepherd, Bowdee. You can find him competing in Brazilian Jiu-Jitsu, working out, playing tennis or golf, and taking advantage of the beautiful beaches that Florida has to offer. Dr. Holland looks forward to serving the South Florida community, providing exceptional care to his patients, while ensuring their oral health and well-being are in the best hands possible.