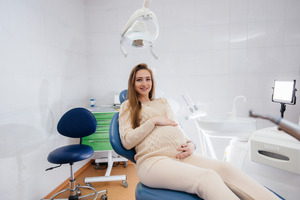 When you're having oral surgery done, sedation can help you stay relaxed and calm throughout the process. But if you're pregnant, you might have concerns about the effect that sedation might have on your baby's development. What's the right choice for you? Here's what you need to know about having dental sedation administered while pregnant.
What is Dental Sedation?
Dental sedation is the use of medications to help patients remain comfortable while their teeth are being worked on. It's typically recommended for those with dental anxieties, but it may also be beneficial for anyone who has a hard time sitting still for long periods of time. There are several different kinds of dental sedation, such as:
Nitrous Oxide Sedation: Nitrous oxide is administered through a nasal mask to keep the patient in a relaxed and euphoric state.
IV Sedation: The sedative is delivered directly into the bloodstream. The patient will be in a deep state of relaxation, but they'll still be conscious.
General Anesthesia: Unlike nitrous oxide and IV sedation, general anesthesia puts the patient to sleep for the duration of their procedure. Once they awaken, they'll have no memory of their treatment.
Can Pregnant Women Get Dental Sedation?
Certain drugs used for dental sedation can potentially affect the fetus. For this reason, oral surgeons and dentists don't usually recommend sedation for pregnant women.
That said, the stage of pregnancy makes a difference. Sedation is considered safest during the second trimester. Having it done during the first trimester can lead to development problems, and waiting until the third trimester could put you at risk for preterm labor. In short, if you want to take advantage of dental sedation, the second trimester is the best time to have your procedure done.
What About Local Anesthetics?
While you should typically avoid dental sedation while pregnant, local anesthetics are another story. Medications that are topically applied to keep your mouth numb during oral surgery and other types of dental work are completely safe for you and your baby. As such, you can use local anesthetics to stay comfortable during any necessary procedures even if you're currently ineligible for dental sedation.
Is It Okay to Have Oral Surgery Done While Pregnant?
You generally shouldn't undergo oral surgery during pregnancy. However, some procedures – such as the extraction of an infected tooth – cannot be safely delayed. If oral surgery is absolutely necessary, it's best to have it performed during the second trimester; it can also be safe during the third trimester, although you may find lying back in the chair uncomfortable.
In the event that you need a procedure done while you're still pregnant, you can count on your oral surgeon to let you know whether sedation is currently a safe option for you.
About the Practice
The board-certified oral surgeons at South Florida Oral & Maxillofacial Surgery have completed years of specialty training to bring their patients high-quality care. They're proud to offer various forms of sedation as well as local anesthetics to make each procedure as comfortable as possible. If you have questions about having oral surgery performed while pregnant, reach out to our Jupiter office through our website or by calling (561) 743-8311.