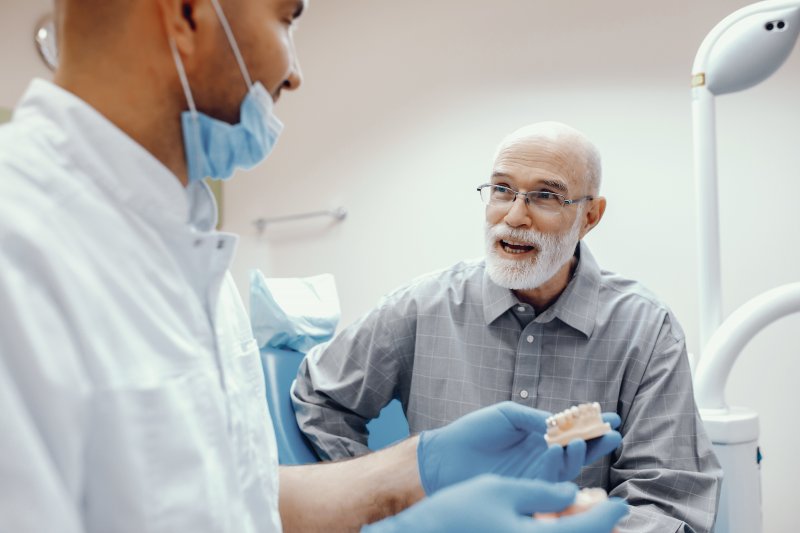 Whether you've heard about them in the news or from friends and family who have received them already, dental implants are quickly becoming the most popular form of tooth replacement out there. For decades, dental implants have shown to be incredibly effective at mimicking teeth, but how exactly do they work? If you aren't sure if you are eligible for dental implants and you've been considering them for quite some time, keep reading!
What is a Dental Implant?
A dental implant is a titanium post that is designed to be placed directly inside of the mouth. Unlike bridges and dentures which sit on top of gum tissue, dental implants are meant to physically integrate with your bone tissue and become part of your jaw. This is known as osseointegration and it's a significant part of how dental implants provides so many benefits.
Along with dental implants comes an optional abutment (which is typically used to provide additional foundation to the restoration) and either a crown, bridge or denture. Dental implants can be combined with any restoration, which means it's possible to replace single, multiple or all teeth in the mouth at a time. In many cases, you don't need to have a dedicated dental implant for every tooth you intend on replacing.
What Should I Expect from the Process?
In the early stages of the implant process, a dental exam is completed to confirm your oral health as well as the current condition of your bone tissue. It involves an X-ray and potentially a cone beam scan, which creates a 3D model of your mouth. If the oral surgeon determines that you are an eligible candidate for dental implants, they can begin planning your treatment accordingly. This means confirming the number of teeth you need to replace and where they are located.
During the actual surgery, the implants are placed and given several months of time to heal. This healing process is long, but it is crucial to ensuring successful integration.
The Notable Benefits of Dental Implants
When placed properly by an expert, dental implants can last 30 years or longer, making them the longest-lasting tooth replacement option out there today. Additionally, dental implants feel incredibly natural because they stimulate your jaw's bone tissue. Think of implants as a replacement tooth root, which is essential for keeping biting strength high and preventing bone from breaking down. Only dental implants offer these type of restorative benefits.
With improved biting strength, you can eat all the foods you want without worry of your tooth replacement shifting out of place or feeling unnatural. This means chewing steak, biting into apples, or eating a handful of mixed nuts is not a problem when you have a dental implant to rely on.
Do dental implants sound like a good option for you? With so many people choosing them to replace teeth, you're not alone. Schedule an appointment with an oral surgeon today to learn more and see if dental implants are ideal for your tooth loss!
About South Florida Oral & Maxillofacial Surgery
The oral surgeons at South Florida Oral & Maxillofacial Surgery have decades of cumulative experience placing dental implants and performing many other forms of oral surgery for patients. Their expertise ensures that your next tooth replacement with dental implants is a complete and total success. To learn more or get scheduled for an implant consultation, you can contact them through their website.