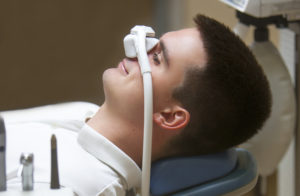 Have you been avoiding going to the dentist? Maybe you have a toothache that's slowly been getting worse, or it's simply been longer than six months since your last checkup. From previous bad experiences to issues feeling physically comfortable in the examination chair, there are plenty of reasons why you may be putting off a much-needed trip to your dentist's office. Fortunately, dental sedation options like nitrous oxide could help make your next appointment a relaxing one without any emotional or physical discomfort! But just how safe is nitrous oxide? Read on to find out — the answer may pleasantly surprise you!
How Does Nitrous Oxide Work?
Nitrous oxide is the clinical name for this option, but it's likely that you're more familiar with its nickname "laughing gas." This colorless odorless gas is administered through a small mask over your nose, and within moments of breathing it in, you'll begin to feel light, warm, and relaxed. Nitrous oxide dulls the body's ability to perceive its surroundings, so you'll be oblivious to the sights, sounds, and other sensations that would normally cause you discomfort. Though you'll remain conscious throughout your treatment, you shouldn't feel any pain nor are you likely to form any lasting memories of your procedure. When your treatment is done, the mask is removed, and you'll return to your normal alertness within just a few minutes. You'll even be able to drive yourself home and continue on with your day uninterrupted.
How Safe Is Nitrous Oxide?
Nitrous oxide is the lightest and gentlest form of dental sedation. For more than 80 years, dental professionals worldwide have been using, testing, and perfecting nitrous oxide for dentistry. This non-addictive, non-allergic combination of nitrous oxide and oxygen has proven time and time again in countless clinical studies to be both safe and effective. The risk of side effects in both the short term and long terms is shown to be exceptionally low, and most patients feel no side effects whatsoever.
Your dentist and their team will be able to monitor your vitals throughout your treatment with nitrous oxide sedation. They'll be able to adjust your level of sedation at any given moment to ensure you stay as safe and comfortable as possible.
Who Should Consider Getting Nitrous Oxide Sedation?
Nitrous oxide dental sedation has helped countless patients overcome a variety of issues that prevented them from seeking the dental care they needed. You may be interested in nitrous oxide if you:
Struggle with dental anxiety or fear of the dentist
Have sensitive teeth or an overactive gag reflex
Experience neck, back, jaw, or other pain while sitting in the examination chair
Have a fear of needles or dislike the sound of dental instruments
Are resistant to dental numbing medications
Plan on completing several treatments or extensive dental work in one appointment
Nitrous oxide sedation could be the option that helps you get the care your smile deserves. If you have more questions about the safety of sedation dentistry, don't hesitate to contact your dentist today!
About the Practice
At South Florida Oral & Maxillofacial Surgery, the comfort of our patients is our top priority. Our four highly skilled oral surgeons are all certified and trained in sedation dentistry. We offer several options to help patients achieve the level of relaxation they need, including nitrous oxide, Exparel opioid-free anesthesia, IV sedation, and more. To learn more about the effectiveness and safety of our dental sedation options, contact us online or at (561) 440-7366.