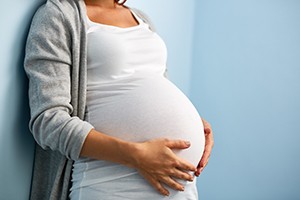 Pregnancy can cause your body to go through a myriad of changes due to the fluctuations of hormones during your pregnancy months. It is extremely important for a pregnant woman to practice good oral hygiene and see your dentist regularly throughout your pregnancy. However, there are certain dental practices that can be done in your third trimester versus your first trimester. Your dental professional will know what can and cannot be done at any particular point in your pregnancy, so make sure to make your dentist aware that you are pregnant especially if you are not showing yet.
Possible dental issues during pregnancy
Pregnancy Gingivitis – Some women may develop a condition known as "pregnancy gingivitis." Gingivitis during pregnancy is an inflammation of the gums that can cause swelling and tenderness. It is quite common for your gums to bleed a little when you brush or floss. If the bleeding is very consistent or you should see your dentist to prevent any further gum damage.
Tooth Decay – Due to the hormone fluctuations and changes in eating habits during pregnancy, you may be more prone to cavities. If you are eating more carbohydrates and sugars or are suffering from morning sickness, these changes can increase the amount of acid your mouth is exposed to, which can eat away at your tooth enamel, causing tooth decay.
When to see the dentist during your pregnancy
Your first trimester
The first trimester of your pregnancy (the first 13 weeks) is the time in which most of the baby's major organs develop. If you go to the dentist during your first trimester, tell your dentist that you're pregnant and have only a checkup and routine cleaning. If possible, postpone any major dental work until after the first trimester. However, if you have a dental emergency, don't wait! Infections in the mouth can be harmful to you and your baby. See your dentist immediately, and make sure that all dental professionals who examine you are aware you're pregnant.
Your third trimester
If you have postponed seeing your dentist during your first or second trimester, the third trimester is the time to have a dental checkup to ensure that your mouth is healthy. By visiting your dentist at this time, he or she will be able to advise you on what you can do to prevent oral health problems after your baby is born.
Pregnancy hormones create many powerful changes in the body and some changes can put pregnant women at increased risk for periodontal disease, which is the most severe form of gum disease. As soon as you believe you're pregnant, tell your dentist, because it may not be safe to have X-rays during pregnancy. You should also let your dentist know if you are trying to get pregnant; knowing this can help in planning x-rays or other treatments.