How Dental Implants Work – Jupiter, FL
Learn About the Steps of Rebuilding Your Smile
In terms of replacing lost teeth, dental implants are truly unique in that they replicate the whole tooth's structure, from the root up through the visible crown. However, this treatment requires multiple steps that can sometimes take several months to a year to complete. While that can sound overwhelming, there's no need to worry. Here's a quick and easy guide on how dental implants work. For any further questions, don't hesitate to call South Florida Oral & Maxillofacial Surgery!
Initial Dental Implant Consultation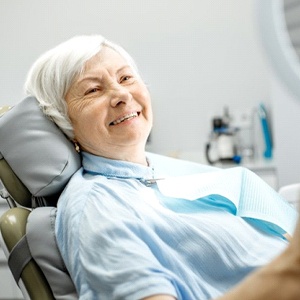 Generally, most patients who have good oral and overall health make good dental implant candidates. You'll still need a consultation to make sure, though. This process usually starts at your dentist's office, where they'll capture digital images of your mouth and jaw to detect any problems that may be hidden beneath the surface. Depending on what they find, you might need preliminary procedures, such as bone grafting, which we can take care of at our practice.
Dental Implant Surgery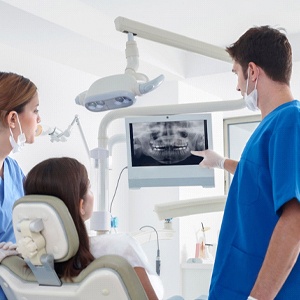 After you've healed from your preparatory work, you can schedule your implant placement surgery with us. A potent local anesthetic (as well as sedation in most cases) is used to make sure you're comfortable before we open your gum tissue to access your jaw. Small holes are created at strategic locations throughout the bone. The implants are placed in the holes, and your gums are then stitched closed.
Dental Implant Osseointegration & Abutment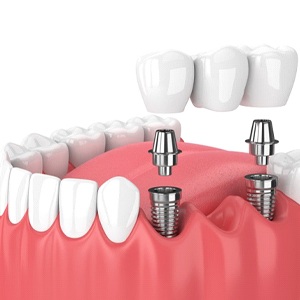 Over the next three to six months, your jawbone will fuse to the implants in a process called osseointegration. This allows your new replacement teeth to have a sturdy foundation and the stability to last for a lifetime with the right care.
Once osseointegration is complete, you'll return to our office for another brief surgery to receive your abutments. These are small metal attachments that will allow your dentist to place your restoration on top of your implants. During this procedure, we open your gums to expose the head of the implant and install the abutments. Your gum tissue will heal around after a couple of weeks.
Placement of Dental Implant Restorations
After you've gotten your abutments, your dentist should take care of the rest from there. While you're recovering from your abutment surgery, a dental lab is busy creating your new teeth from high-quality, natural-looking materials based on impressions of your mouth that your dentist has taken. Once they place your custom-made crown, bridge, or denture, no one should be able to tell you're missing any natural teeth!