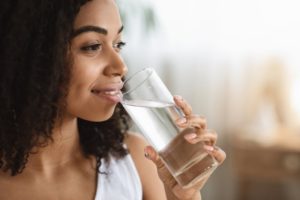 Are you a foodie? Do you love to cook? If you answered yes, then you find pleasure in a well-crafted meal or treat. But if you want to replace your missing teeth with All-On-4 implants, you may have to forego eating some foods for a while. In fact, your implant dentist will give you some instructions on what you can and cannot eat for the few months following the procedure. Read on to learn what your diet restrictions are during this important healing period.
Up to 2 Weeks After Surgery
In the weeks after your placement surgery, you must adhere to a liquids only diet. Your throat, jaw, and gums are likely going to be sore enough that you won't want normal food, but your jawbone needs time to heal and become integrated with the implants before you use them to bite and chew. During this time, you may manage discomfort and any swelling using over-the-counter pain reliever like ibuprofen and a cold compress.
You may start drinking liquids basically right after the surgery; however, until the anesthesia wears off, clear liquids are recommended. As you can tolerate them, you can start to have thicker liquids when you're no longer numb or affected by the anesthetic. You should only have cool liquids for the first 48 hours, and it's important that you avoid using a straw, because creating suction in your mouth can interfere with the healing of the surgical sites.
Stay hydrated and choose to drink nutritious liquids. Although you may not be used to so many liquids in your diet, try to get sufficient vegetables and fruits so that your body can heal as efficiently as possible. Good examples of liquids to have during this time include broth (vegetable, chicken, or beef), fruit juices, protein shakes, thin oatmeal, shakes formulated to replace meals, and smoothies.
Up to 3 Months After Surgery
After the two-week mark and after your soreness is gone, you may transition to a soft food diet. Instead of only having liquids, you can implement more normal foods back into meals and snacks—just be careful to avoid anything hard, crunchy, or chewy. These foods include mashed vegetables, bananas, eggs, cooked pasta, muffins or soft bread, canned fruits and vegetables that have no seeds or skin, and the like.
Although it can be frustrating to limit yourself to soft foods for a few months, there are plenty available, and sticking to these diet restrictions will help give you the best chances of success for your new teeth.
It may seem like a long time now, but time passes. Eventually, you will be able to resume a completely normal diet with nuts, chips, or whatever else you would like to eat. It is worth the temporary effort and sacrifice in order to enjoy having strong, functional, long-term teeth again!
About the Practice
At South Florida Oral & Maxillofacial Surgery, we are proud to have multiple board-certified oral surgeons on our staff. This means that we specialize in complex procedures in dentistry, including implant placement. Among our implant services, we can provide All-On-4 for those who have suffered total tooth loss, replacing an entire arch of teeth with only four implants. If you are interested in learning more about this treatment, you may schedule an appointment by contacting one of our three locations.