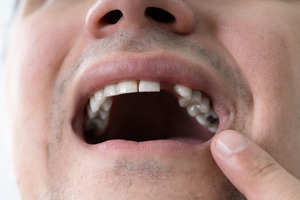 Losing a tooth can have more of an impact on your appearance than you might think. Obviously, a gap in your smile can be embarrassing on its own, but what many people don't realize is that tooth loss can also change the overall shape of the face. How exactly does this happen? And can you prevent it by replacing your teeth with dental implants? Your oral surgeon has the answers.
How Missing Teeth Affect Facial Shape
Your teeth provide stimulation to the jawbone to maintain it. When even one tooth is missing, the part of the bone where it used to be located will start to deteriorate. Over time, your jaw will become weaker and weaker due to bone loss.
As the jawbone loses its height, your face will start to collapse, giving it a sunken or hallowed appearance. Wrinkles may start to form, making you appear older. The area around the corners of your mouth can lose its shape, potentially causing you to look like you're frowning even if you don't realize it. Additionally, if your lips don't have a full set of teeth to support them, they might appear thinner.
These changes will become more and more prominent the longer you go without a full set of teeth. If you want to avoid facial collapse after tooth loss, oftentimes your best option is to have dental implants placed as soon as possible.
How Dental Implants Can Help Preserve Facial Shape
Dental implants are surgically placed in the jawbone, making them the only type of tooth replacement that can fulfill the same functions as your natural tooth roots. As such, they can keep the jawbone stimulated so that it doesn't deteriorate over time, making it much less likely that you will experience facial collapse in the future. As a result, it will be easier for you to maintain a more youthful appearance.
Other Benefits of Dental Implants
In addition to helping to maintain the current shape of your face by stopping bone loss, dental implants also:
Prevent your remaining teeth from shifting by completely filling in the space in your mouth.
Restore your bite force so that you can eat all of your favorite foods again.
Allow you to speak easily and clearly.
Last a very long time in your mouth with minimal maintenance.
Not everyone is a candidate for dental implants, so if you're interested in having them placed, you should talk to an oral surgeon or your regular dentist. If it turns out dental implants are right for you, they could be the perfect solution for re-completing your smile while also helping you avoid facial collapse.
About the Practice
At South Florida Oral & Maxillofacial Surgery, we're proud to have multiple oral surgeons combining their skills and strengths to bring patients in Jupiter high-quality, comfortable care. We're able to replace any number of missing teeth with expertly placed dental implants. To schedule a consultation at our office, visit our website or call (561) 743-8311.