Dental Implants – Royal Palm Beach
Truly Modern Tooth Replacement That Lasts
When you have missing teeth, it can make it difficult to not only smile, but speak and eat properly as well. With dental implants in Royal Palm Beach from South Florida Oral & Maxillofacial Surgery, you can address all of these problems head-on. Not only does this solution look natural, but it's incredibly reliable. They are designed to last a lifetime and give you confidence that they will stay in place. It doesn't matter how many teeth you might be missing, they are sure to give your smile a second chance.
Why Choose South Florida Oral & Maxillofacial Surgery for Dental Implants?
Catered by 4 Board-Certified Oral Surgeons
We're Ready to Help 24/7!
Accepts Multiple Insurance Plans and Maximizes Benefits
Benefits of Dental Implants
Restore your smile's appearance as well as your self-confidence
Reduce the risk of future bone loss (and therefore tooth loss)
Stop teeth from shifting and misaligning your smile
Eat the foods you want without difficulty or discomfort
Avoid the need for a bridge or denture (when missing multiple teeth)
Save you time during your at-home maintenance (especially compared to a denture)
Save money in the long-term thanks to decades of longevity
Learn More about the benefits of Dental Implants
Indications for Dental Implants
Not sure if dental implants are right for you? No matter how many teeth you are currently missing, you can benefit from treatment. All that's required is having good and consistent oral health and a substantial jawbone that can support prosthetic roots. After meeting these requirements and addressing them as needed, we can use restorations to resolve the following issues:
Missing Single Teeth
A single dental implant post combined with a crown is placed between two healthy teeth, which means your oral surgeon in Royal Palm Beach does not need to reshape surrounding teeth in any way. This is unlike what needs to be done with placing a dental bridge.
Missing Multiple Teeth
If you have larger gaps in your smile, a bridge or denture can be attached to a series of dental implants. This is not something that a traditional removable prosthetic can mimic. Not only do your restorations look more natural this way, but they last longer as well.
Missing All Teeth
Does it feel like you can never trust your denture to stay in place? By placing six to eight implants throughout the mouth, we can make sure your future restoration never feels loose again. When you need to anchor a full denture and make sure that it doesn't slip, click or shift while eating or talking, that's all it really takes!
All-on-4/Teeth in a Day
Did you know that it's possible to place an entire row of teeth in a single appointment? With just four dental implants placed into the thickest portions of your jaw, we can place a temporary denture right away and restore your oral function faster than ever. After a few appointments, a custom-fitted permanent denture will replace the temporary version.
Learn More About Teeth in a Day
Zygomatic & Pterygoid Implants
When a patient does not have enough healthy bone tissue to hold a traditional shorter dental implant, zygomatic and pterygoid implants can be utilized. These implants are much longer, provide a more modern design, and rely on facial bones containing great hardness. For example, the cheekbones are used as the anchor, rather than the jaw. If you'd prefer to not undergo extensive bone grafting procedures to receive implants, these options can be more ideal.
Bone Grafting
When teeth go missing, bone tissue will begin to shrink, atrophy and resorb back into the body. This can make the jawbone thinner and therefore too weak to support implants safely. The good news is the oral surgeons at South Florida Oral & Maxillofacial Surgery can give you the chance to enjoy the many benefits of dental implants with bone grafting. By using either donated bone material, lab-made materials, or your own bone from other parts of your body, we can strengthen your jaw so it can hold a new dental implant with relative ease.
Partners With Your Dentist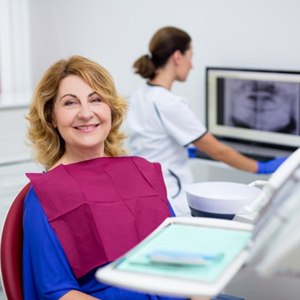 Since many general dentists in the area trust South Florida Oral & Maxillofacial Surgery's one-of-a-kind expertise, many of our patients come directly from them! We'll help you transition between your dentist's office and ours when you become a patient, so you're not feeling left out of the process. You'll completely understand your situation once we get all of your paperwork organized and provide you the care you need in a stress-free and efficient way. From the moment you walk through our practice doors to the end of your treatment, it will feel like visiting your general dentist.
Dental Implants Recovery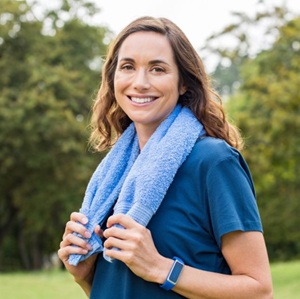 In the beginning, you will likely feel a little soreness in your gums for a few days. We encourage our patients to take ibuprofen and other over-the-counter medications to manage any present discomfort. We can also alleviate soreness in your gums with the help of a topical anesthetic. During your aftercare, you can practice brushing and flossing normally. The implant site itself will be regularly reviewed and all patients will be given instructions they need to take care of themselves.
Cost of Dental Implants
In order to determine your co-payments and deductible amounts as well as what benefits are available to you for treatment, our benefits coordinator will work as the liaison between you and your insurance company. We can then discuss your payment options after confirming your out-of-pocket costs. These include cash, personal check and major credit cards.
In many cases, our patients can pay for dental implants via CareCredit® financing. Used at leading healthcare providers like dentists, optometrists, and general practitioners, CareCredit is used much like a credit card. If you are getting treatment from more than one provider, CareCredit is a great option to consider. If your credit score is less than perfect, it's likely that you'll still be able to obtain payment plans that can fit into your monthly budget.