Dental Implants Near Wellington, FL
The Perfect Replacement for Missing Teeth
Are you missing multiple teeth? If so, you may feel embarrassed to smile or even eat and speak clearly. With the help of dental implants near Wellington, FL at South Florida Oral & Maxillofacial Surgery, there's a viable solution for your tooth loss. Dental implants provide a comprehensive tooth replacement option that both looks natural and remains reliable for decades to come. No matter how many teeth you are missing, our experienced oral surgeons can offer detailed treatments that transform your smile from top-to-bottom.
Why Choose South Florida Oral & Maxillofacial Surgery for Dental Implants?
4 Board-Certified Oral Surgeons In-House
24/7 Availability for Your Needs
Works Hard to Maximize Dental Benefits
Benefits of Dental Implants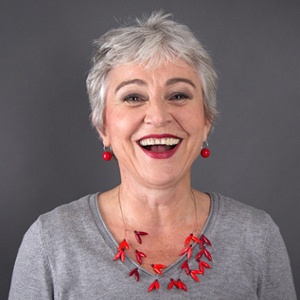 If you're wondering why dental implants have quickly become the new gold standard for tooth replacement among dentists, it's because they are the only option that restores the crown and root portion of the tooth. This is thanks to the titanium post that mimics the tooth root and integrates with the jaw's bone tissue. It also ensures that it can hold a restoration, such as a crown, bridge, or denture, without modifying existing teeth. Their other benefits include:
Day-to-Day Benefits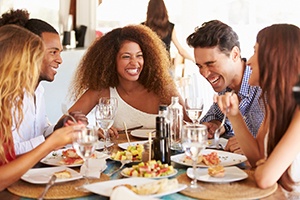 A smile is such an essential component of your overall appearance, it's widely considered to be one of the first and most memorable things people notice when they meet you. Dental implants are designed to fully restore the appearance of your smile, no matter what teeth you were missing previously, therefore restoring your overall appearance along the way.
When you have a complete smile you're happy to show to friends, family, co-workers, and people you're meeting for the first time, you can expect improved self-confidence in yourself knowing that you never have to hide your smile again! This can make a major positive impact on your overall outlook on life as well.
Eating the foods you enjoy is never an issue when you have dental implants. While dentures can easily shift out of place and even fall out while in use, dental implants are sturdy and well-anchored inside of the bone tissue of your jaw. Whether you enjoy crunchy vegetables or chewy steak, they're never a problem for dental implants.
Health Benefits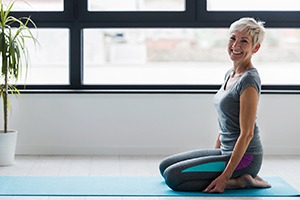 Being able to eat the foods you want means you don't have to work as hard to ensure your diet is well-balanced and nutritional. Eating meals complete with fruits, vegetables, dairy products, and proteins is simple when you aren't held back by missing teeth or an ill-fitting prosthetic.
By replacing teeth, you prevent nearby teeth from moving out of place, which is a common occurrence when teeth are lost. This can lead to misalignment both of teeth and the bite, eventually causing stress to the joints that attach the jaw to the skull. As a result, you can prevent chronic jaw and facial pain brought on by shifting teeth following tooth loss.
Dental implants are meant to be as easy to clean as natural teeth, which means they can make your oral care more convenient and less time-consuming. Simply brush and floss as normal!
Long-Term Benefits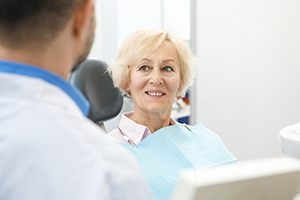 Neighboring teeth are at greater risk of being lost when tooth loss occurs. By replacing teeth now, you can reduce your risk for future tooth loss and ensure your remaining teeth have the care and attention they deserve.
Dental implants are designed to withstand the test of time. When taken care of, they can last 30+ years and even the rest of your life! That can't be said for traditional bridges or dentures, which usually need replacement after about 10 to 15 years of use (bridges) or 5 to 7 years of use (dentures).
Since you won't have to worry about replacing dental implant restorations, you can also save money in the long-term on future tooth replacements. This makes dental implants a better long-term investment compared to other solutions.
Indications for Dental Implants
Still unsure if dental implants are the right treatment for you? No matter how many teeth you may be missing, dental implants can offer you many benefits. All you need to achieve consistent oral health as well as positive overall health is a thick and healthy jawbone, which is needed to support new roots, and healthy gum tissue. Once you meet these requirements, which we're always here to help you adjust to if needed, our team will break down your restoration options.
Missing One Tooth
Instead of reshaping teeth to make room for a bridge, the dental implant is covered by a dental crown. This means we can replace the missing tooth and place it in between healthy teeth, rather than altering enamel (which is what is traditionally done for dental bridges. It's perfect for those who want to preserve as much of their smile as possible.
Missing Several Teeth
If you need to fill multiple gaps, we can place bridges and partial dentures on top of dental implants. By doing this, you can expect better stability and security compared to traditional methods. Additionally, prosthetics held in place with dental implants look much more natural and have improved longevity as well.
Missing All of Your Teeth
Got a denture that's causing more problems than you were expecting? Ever feel like it never stays where it's supposed to? Our office can place six to eight dental implants throughout the mouth, allowing a full arch of teeth to be placed on top. This way, you don't have to worry about them day-to-day. In fact, you can prevent all shifting, slipping, clicking, slurring and difficulty eating your favorite foods!
All-on-4
Replacing an entire row of teeth in a single appointment is made possible with the help of the All-on-4 procedure. The process is relatively simple. All we need to do is place four implants into the thickest portions of your jaw. This allows a temporary denture to be attached right away, meaning you can leave our practice with a brand-new, natural-looking smile! After that, you'll visit our office a few more times in order to receive your better-fitting permanent denture.
Zygomatic & Pterygoid Implants
Do you not have enough healthy bone structure to support a dental implant? We have longer options that may be worth considering. These are zygomatic and pterygoid implants, which rely more on the harder facial bones to integrate with dental implants. For example, the cheekbones can act as a strong anchor, allowing you to skip extensive bone grafting procedures. While these procedures help you rebuild your bone tissue, we want to provide other options for your convenience.
Bone Grafting
Did you know that the jawbone can begin to break down the longer teeth are missing? It's actually more common than you'd think. For many, this can make it too difficult to place dental implants because the bone tissue has become too brittle. Thankfully, South Florida Oral & Maxillofacial Surgery is here to help. Through bone grafting, you can enjoy the benefits of dental implants by donating existing bone from other areas of the body (or by using donated or lab-grown bone tissue) to thicken and strengthen the areas of the jaw that need it most. This will ensure you can receive your new tooth and restoration without worry.
Partners with Your Dentist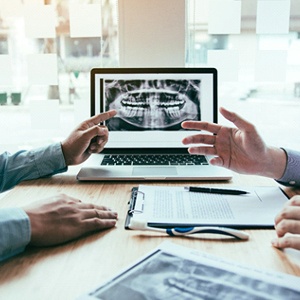 More often than not, patients of our practice are referred to us from dentists near Wellington, FL. This is because we provide a one-of-a-kind expertise that's hard to find anywhere else. Our team members are fully dedicated to making your transition from your trusted dental office to ours as smooth and comfortable as possible. After you arrive, we'll do whatever we can to address your needs and organize your necessary paperwork. When everything is said and done, we'll hardly feel any different than your current dental office!
Dental Implant Recovery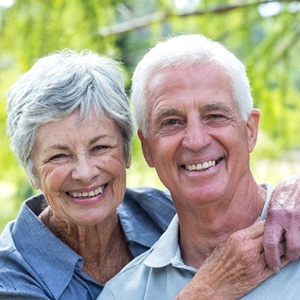 Over the next few days following your surgery, it's normal to have sore teeth and gums. To best alleviate this, we encourage you to take over-the-counter medications like acetaminophen or ibuprofen. Both will help reduce inflammation that is causing your discomfort. We can also apply a topical anesthetic, which reduces soreness in the gums and can actually be quite helpful on top of your over-the-counter medications. Just remember to brush and floss normally as well. During future appointments, we'll closely examine your dental implants as they heal and provide additional instructions to ensure they remain healthy moving forward.
Cost of Dental Implants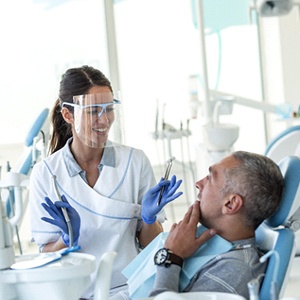 If you have any benefits available to you for dental implant treatment, you'll find out when you speak to our benefits coordinator. They will act as your middleman for you and your insurance company. Furthermore, they can determine what your copay and deductible amounts should be, resulting in your total out-of-pocket costs. From there, we will break down your payments options, which includes cash, personal check, and major credit cards.
Many of our patients tend to choose third-party financing options as it allows them to make monthly payments on their treatments. This includes CareCredit, a healthcare credit card that can be used for medical providers, such as oral surgeons. It's perfect if you can't pay for care upfront or have less-then-perfect credit. Overall, they make it simple to obtain a detailed payment plan that is more manageable for families relying on a fixed monthly budget.
Dental Implant Aftercare Instructions
Once your dental implants are placed, we strongly encourage you to practice routine aftercare so they remain healthy. Don't worry, our dedicated team of oral surgeons will guide you through this process. For example, they can educate you on how to keep your implants healthy not just right after they are placed, but for many decades. Looking for a way to brush up on your aftercare ahead of treatment? You can review our office's helpful tips!
Dental Implant FAQs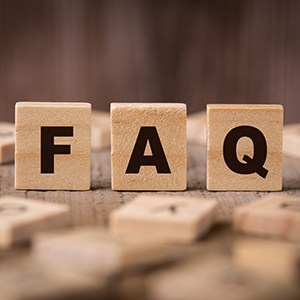 Considering dental implants but are unsure of what to expect? At South Florida Oral & Maxillofacial Surgery, our team of professionals wants you to feel confident about the future of your smile. Undergoing any type of dental procedure can be overwhelming, which is why we have compiled some common questions asked by many of our patients. Below you will find the answers you need to make a more well-informed decision about your oral health, but we invite you to contact us with any additional questions, should you wish to learn more.
Are there risks associated with dental implant surgery?
Dental implant placement has a high success rate, which allows many patients to enjoy their new teeth without any problems. Unfortunately, any surgery carries a risk, and dental implants are no different. After having them put into place, there is a slight chance you could develop an infection that would result in additional treatment. You might also have bruised nerves that can cause numbness in your lips, cheeks, or tongue temporarily. Only in rare, extreme cases can the numbness be permanent. You can expect to experience some mild to moderate soreness after receiving your implants, but you can take an over-the-counter pain reliever or prescribed medication to lessen the discomfort.
How long will it take for my implants to heal?
On average, you can expect the healing period to last several months. However, many factors can contribute to the amount of time you spend recovering at home. With traditional implants, you can expect to wait a few months before receiving your final restoration. With All-On-4 implants, you will receive a temporary denture the same day, so you can begin to enjoy your new smile. Should you require a bone graft or another pre-implant procedure, you may be required to spend several months waiting for the new bone to fuse with the current jawbone before you even begin the process of receiving dental implants.
What can cause implant failure?
Although extremely rare, it is possible that your implants could fail due to:
An improperly placed dental implant
An infection within the bone and soft tissues
Smoking or using tobacco products while recovering at home
A compromised immune system
Should this happen to you, our team can work to salvage your implant so that you can return to enjoying life with your new smile.
How quickly can I return to work after receiving dental implants?
Depending on how many implants you plan to have put into place, you may or may not feel like resuming normal activity the same day. It is advised that the day you receive your implants you get plenty of rest and avoid strenuous activity. However, if you are undergoing a minor (small) case, you may experience some soreness and discomfort but otherwise, feel fine to go about your day. If you are receiving multiple implants, it is recommended that you minimize your activity for 2-3 days or more. This will ensure you get ample rest and allow your mouth to heal more thoroughly before resuming normal day-to-day tasks.