All-on-4 Dental Implants Near Royal Palm Beach, FL
Total Smile Restorations
Dental implants offer an excellent upgrade from traditional dentures. However, since the jaw bone's density and height decrease over time after teeth go missing, implants may not be an option for some patients who do not wish to receive bone grafts. At South Florida Oral & Maxillofacial Surgery, our four board-certified oral surgeons can help even patients who have suffered from bone loss to enjoy the benefits of implant-retained dentures. This is possible thanks to innovative All-on-4 dental implants near Royal Palm Beach.
WHY CHOOSE SOUTH FLORIDA ORAL & MAXILLOFACIAL SURGERY FOR ALL-ON-4 DENTAL IMPLANTS
4 Experienced, Board-Certified Oral Surgeons
Natural-Looking, Highly Functional Restorations
Upgrade from Traditional Dentures
How Do All-on-4 Dental Implants Work?
Four dental implant posts are all that are necessary to support a full arch of prosthetic teeth. The key is to place the implants so that they are in the denser areas of the jawbone. Two are placed near the front of the mouth, and two are placed toward the back of the jaw at a 45-degree angle.
After necessary preparations are made, you'll undergo a minimally invasive surgery to insert the dental implants in the jaw. Right away, you'll receive a temporary denture to wear while your mouth heals. That is why All-on-4 is also known as Teeth in a Day Near Royal Palm Beach. After your mouth fully recovers from your surgery, you'll receive a permanent set of new teeth.
Am I a Candidate for All-on-4 Implants?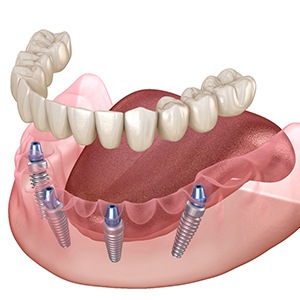 The All-on-4 procedure is suitable for most patients who have lost most or all the teeth throughout an arch. (Remaining teeth must first be extracted.) For dental implants to succeed, your gums need to be free of any signs of infection. If you're suffering from gum disease, you must get it treated before your implant surgery. If you smoke, you might be able to have the procedure done, but you'll need to stop using cigarettes before and after your surgery in order to facilitate proper healing.
What Are the Benefits of All-on-4 Dental Implants?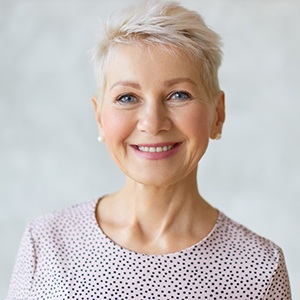 The All-on-4 procedure offers several outstanding benefits:
Because it requires fewer dental implants and you are less likely to require a bone graft, the procedure might help you save money.
Fewer surgical sites contribute to a shorter healing time.
Your new dental implants may stop or even reverse bone deterioration in the jaw.
It will be easy to keep your new smile clean with regular brushing and flossing.
Dental implants are very durable and have the potential to last a lifetime.
All-on-4 VS Traditional Dental Implants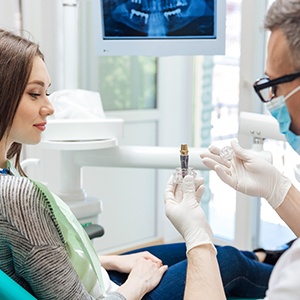 Patients who lost their natural teeth a long time ago will likely need to bone grafts before they can receive traditional dental implants. However, the strategic implant placement used in the All-on-4 technique lessens the likelihood that you'll require such additional treatments. Also, because All-on-4 implants near Royal Palm Beach can support temporary dentures, you'll be able to enjoy your new smile right away instead of waiting for several months.